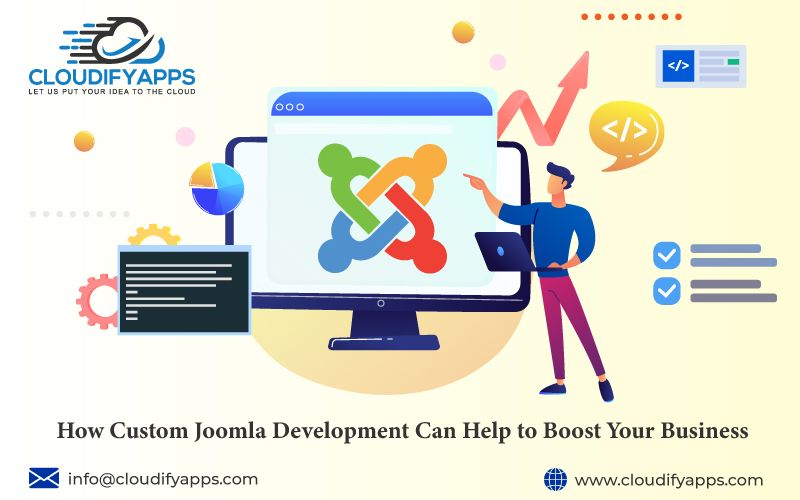 How Custom Joomla Development Can Help To Boost Your Business
Introduction:

With the increasing popularity of e-commerce in today's world, web developers need more interactive tools to build web pages. If a page has more functionality, then it means that the customers will be more engaged with it. This is why website management systems like custom Joomla development services surfaced to provide more exposure and accessibility to these business websites.

One of the most used software packages globally, Joomla is used by small businesses, governments, non-profits, and big brand names alike. It has a strong code base and an extensive global community to help it answer every customer's needs. Joomla has thus been recognized as the best platform for online projects worldwide.

What is Joomla?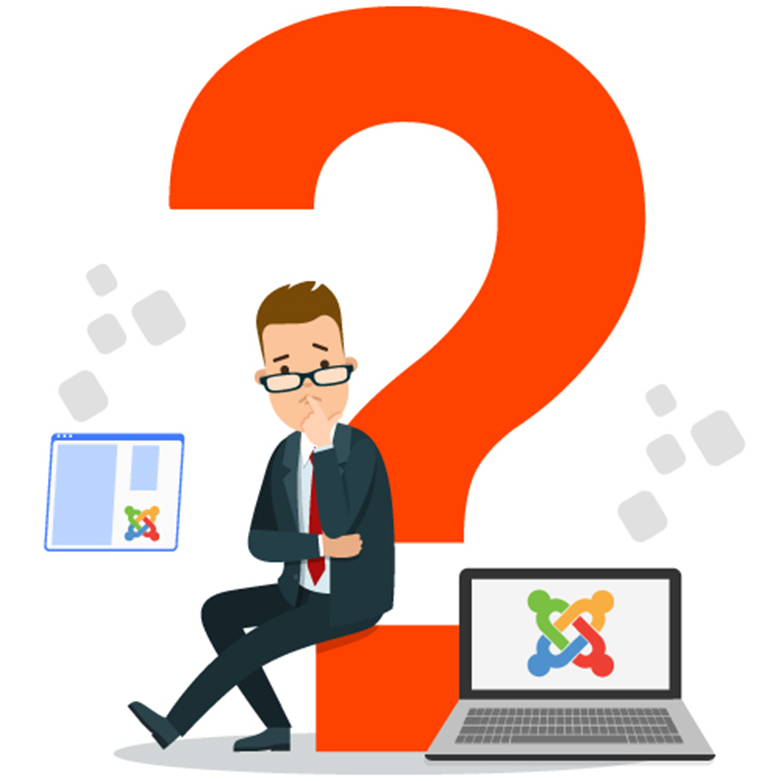 An open-source content management system (CMS), Joomla is used for publishing web content. It is built on a model-view-controller web application framework. This allows Joomla to be used independently of the CMS that can be used to develop solid web applications.

With a CMS like Joomla, businesses can easily manage content, data of a website project, or intranet applications. Managing content includes creating, editing, publishing, archiving, reporting, collaborating on, and distributing web content and data.

The following sectors use Joomla:

Corporate business websites, portals, intranet, or extranet
Small business sites
E-publishing, including online magazines and newspapers
E-commerce and online reservations
Government websites
Non-profit and organizational websites
Community-based or school websites and portals
Personal websites

Whatever niche the website serves, Joomla makes it mobile-friendly, fully extensible, multilingual, accessible, responsive and SEO optimized. It is user-friendly and doesn't require any extra technical or coding skills. If you select Joomla for your website, you will find collaboration, authoring, setting multi-user permission levels, and using administrative tools easier to handle.

Why Use Joomla To Boost Your Business?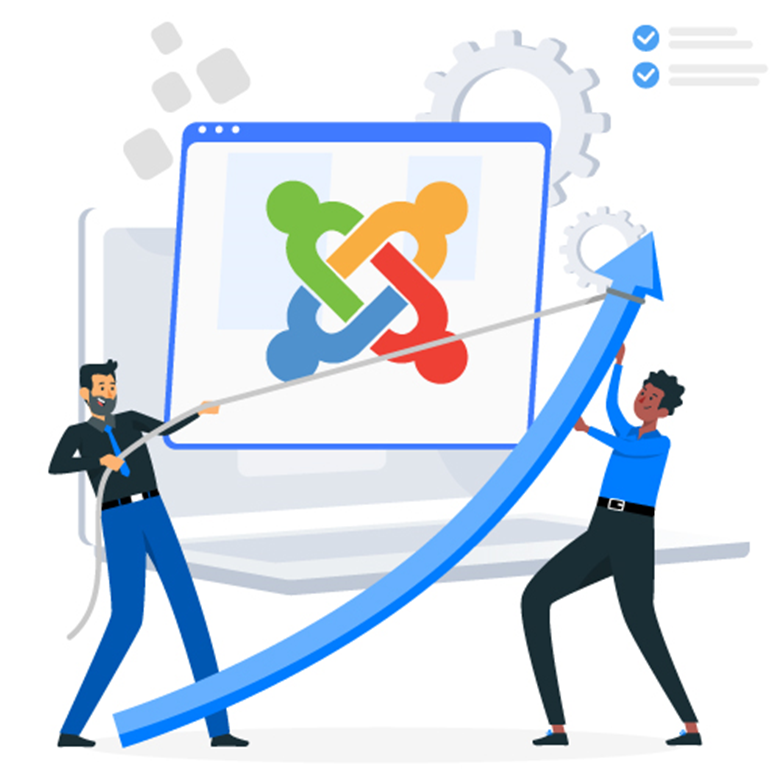 Joomla as the Content Management System for a business has many advantages. With Joomla, a business can easily save its marketing funds and time as it is a free-to-use, open-source software with top-class features. Joomla Development Company lets businesses own online sites with a good return on investment (ROI).

With Joomla, a company can provide the best services to its customers. It provides the best business website tools, applications, and extensions to boost your e-commerce business. Joomla helps to implement an omnichannel strategy to improve the customer experience so that they are interested in engaging with the website and become committed to returning to it in the future.

What Are The Benefits Of Custom Joomla Development?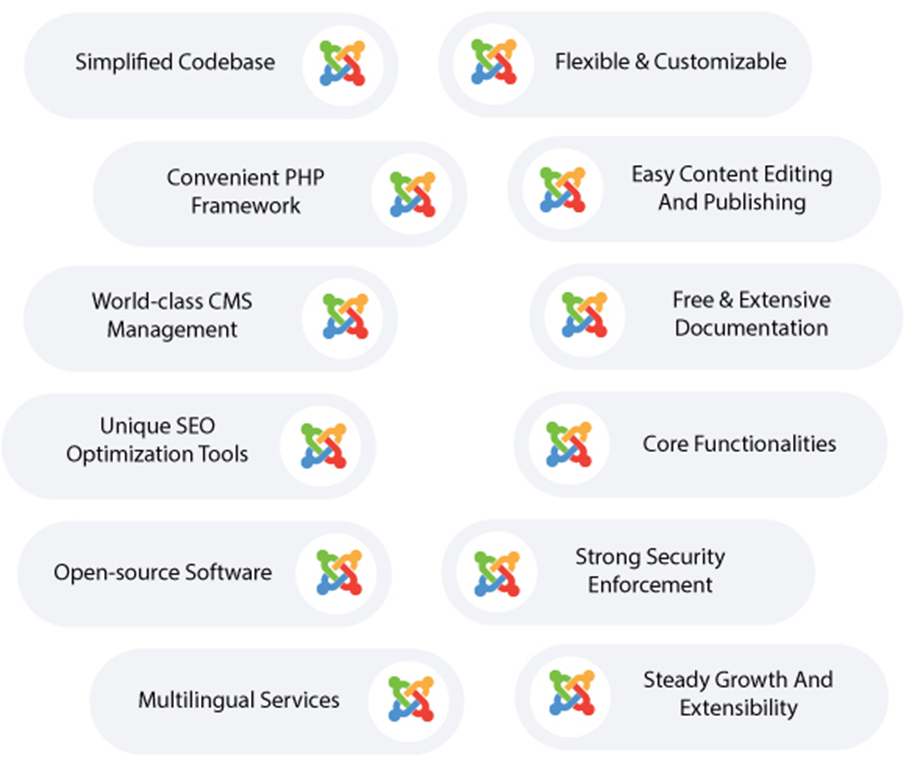 Simplified Codebase:

The main advantage of a custom Joomla template is its simplified codebase. These custom templates are designed in such a manner so that they can be unique and distinct from the rest of the crowd.

The Semantic markup lets the developer make their website more search engine friendly. This can often slow down the loading time of a website, but if you select Joomla for your website, it will cease to be a problem. It runs on a simple codebase that facilitates fast loading.

Flexible And Customizable:

Joomla provides high-quality custom templates, many of which are available free of cost. There are also paid templates that provide top-grade functionality. Graphical User Interface (GUI), available in many templates, lets one change fonts, colors, layouts, and features without working with the code.

Verified third-party extensions can be installed easily with Joomla. With the help of its module-based system, it is possible to customize every webpage with Joomla. The custom Joomla template design code conforms with the W3C validation standards so that the website will run well in any web browser.

Built-in extendable functions and the layout and overrides system are instrumental in making customized products with Joomla. The following are included among others:

Custom layouts
Custom CSS
Language overrides
Template overrides
J layouts
Template assignment
Template frameworks
Custom template

Convenient PHP Framework:

Businesses tend to hire Joomla developer as the PHP framework offered by Joomla is highly stable and lightweight. It allows the developer to write web and command-line applications in PHP. It has good adaptability and scalability to satisfy the user's needs.

The CMS and the framework offered by Joomla are distinct entities. They are independent of each other, so one does not have to install the CMS in order to use the framework.

Easy Content Editing And Publishing:

The Joomla content management system provides the following features:

The user can choose when the articles are to be published with the publishing tools.
Any extra knowledge of code is not required to edit the content using the WYSIWYG editor.
With content versioning, the user will never lose any version of the content or other changes on their site.
Select Joomla for your website to add, manage, edit, and organize your articles with world-class article management tools.
Frontend editing allows one to browse the site while editing their content.
One only has to drag and drop an image to add it to the website with Joomla. The default TinyMCE WYSIWYG editor allows this.
Extra functions can be added to the content with simple editor buttons while uploading images, and other files are made easy by the media manager tool.
Nesting and unlimited depth are offered while creating several categories.

World-class CMS Management:

Boost your e-Commerce business with Joomla's easy core update. It helps to keep the extensions up to date to keep up with the rest of the industry. These extensions can easily be installed from the web without leaving the backend. User registration and accessibility to additional external resources are made easy with Joomla.

Free And Extensive Documentation:

Learning Joomla is not too complicated for the software developer. It requires the developer to only go through the extensive documentation that Joomla provides free of cost. Joomla also has a number of video training tools available for IT professionals.

The Joomla official Wiki provides all the necessary information along with a repository of video tutorials made and managed by OSTraining. The official Joomla community forum also helps the developers by clearing their doubts on Joomla and its uses.

Unique SEO Optimization Tools:

Powerful SEO tools built and ready out-of-the-box for Joomla make the software package a very useful one. It provides metadata and keywords, various admin tools and support for SEF URLs, and menu creation that help to create distinct site maps and boost your e-Commerce business.

The SEO settings of website content can be customized with an optimal rate of availability and searchability with the help of Joomla. Metadata and keywords can be assigned to each menu item along with an automatic alias for its PHP string. This makes the links to particular pages both user and search engine-friendly.

Core Functionalities:

Joomla offers outstanding core functionalities. The developers easily redirect URLs with Joomla while monetizing their website with banners and advertisements. Several contacts, departments, and contact forms can be added with at least 15 custom field types. Messages between administrators are made easy.

When categorization is not enough for a huge load of data, Joomla lets the developer use tags to streamline their content. This allows easy search options for the visitors looking to find the exact information.

The syndicated RSS feed from the content sets Joomla apart from other CMSes. It can also show an external news feed.

Open-source Software:

Joomla has a very supportive volunteering committee that provides the software for free. Since it is open-source software, it supports user convenience above all and has an ecosystem of IT professionals and other technology developers who help to maintain and manage it. This means, if one needs to change webmasters, then many options are available to choose from without needing to change the site.

Strong Security Enforcement:

Joomla has a two-step authentication process and detailed access control levels out of the box with a rock-solid codebase. It releases patches quickly before the exploits are spread too wide and stay ahead of tapping any security breaches. This is an additional incentive for companies to hire Joomla developers.

Multilingual Services:

Joomla has conquered the language barrier with 70 language packs available. These are meant for the core and ready support for language association and multilingual content management. So, with the Joomla Development Company, building multilingual websites becomes really convenient.

Steady Growth And Extensibility:

Every business has its own pacing set for steady growth over the months and years. This cannot be disrupted by software that gets outdated quickly. Jumla can easily keep up with a growing business and scale accordingly for fast turnarounds without a problem.

The integrated Access Control List (ACL) allows the developers to build a complex website with granular access for each user. A stable development environment with modern technologies and the minimum requirements- this is the true efficiency of custom Joomla development services.

Conclusion: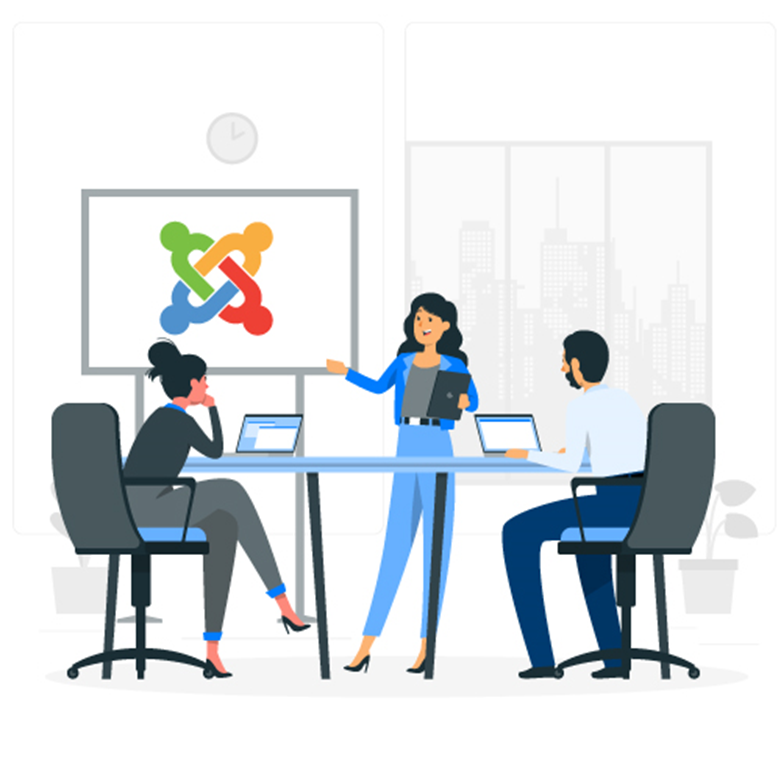 Our researchers show that at least 70% of customers learn about a company through their blogs and websites. So, businesses have started to hire Joomla developer to boost their online presence. This has created greater career opportunities for developers as well as better exposure for brands trying to make it big in the ever-growing virtual world.
---
Popular Tags
Recent Posts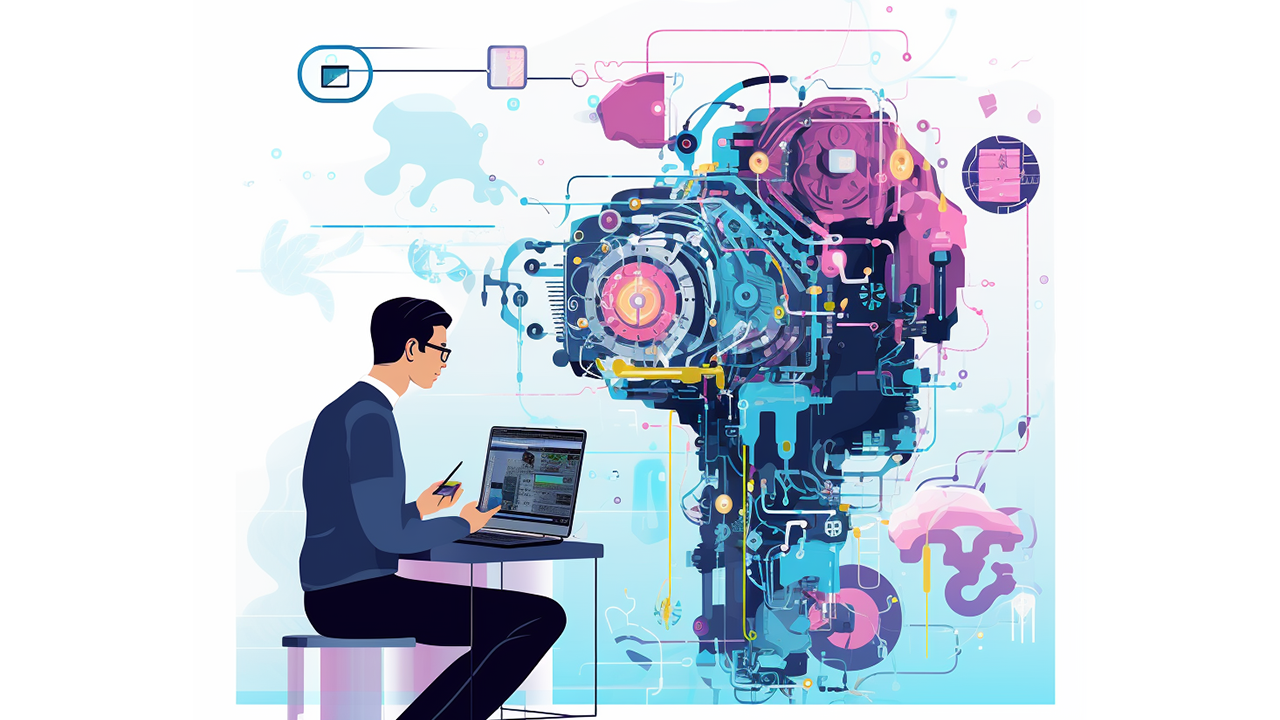 Introduction In the evolving landscape of artificial intelligence, keeping chatbots and digital assistants informed is crucial. Retrieval-A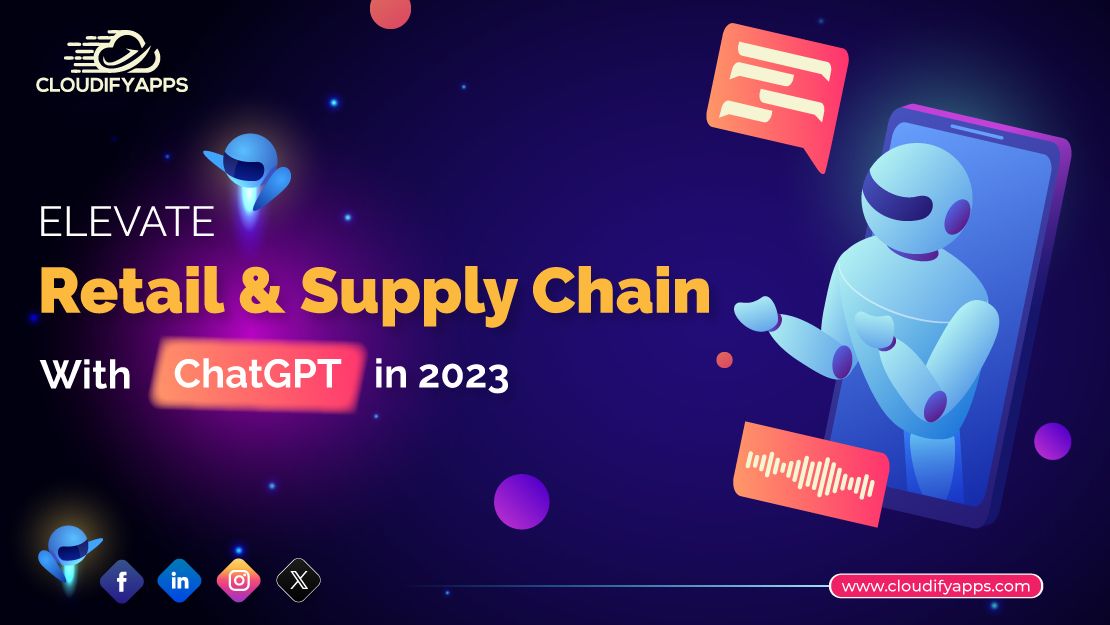 ChatGPT has emerged as a groundbreaking tool in the realm of artificial intelligence, offering capabilities that extend beyond mere chatbots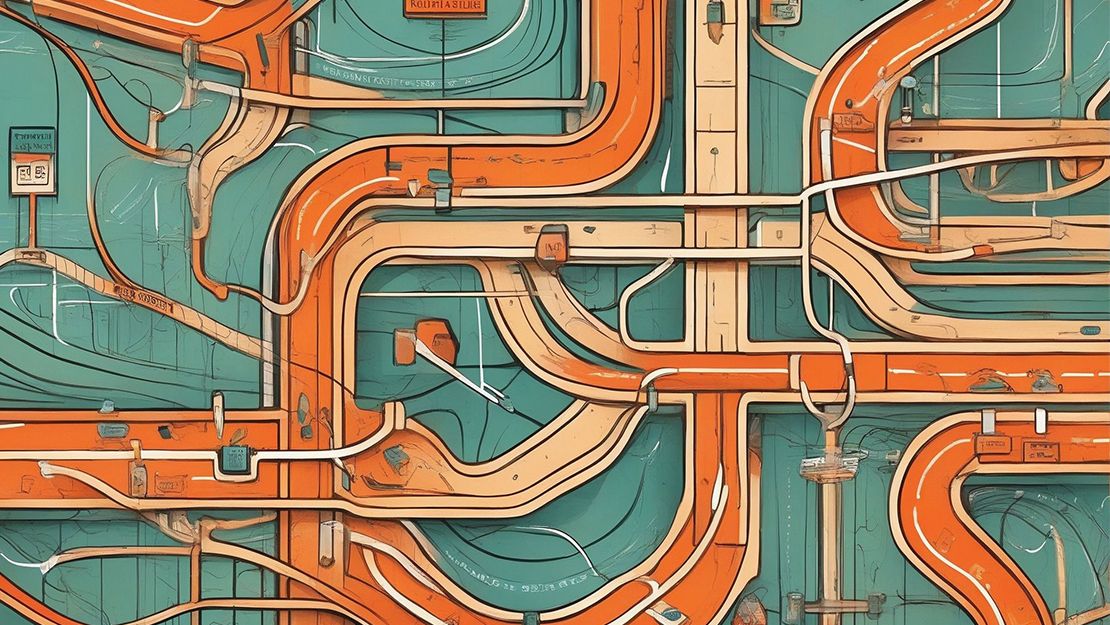 If you're a developer working with Laravel applications, you know how important it is to handle routing efficiently. The good news is that t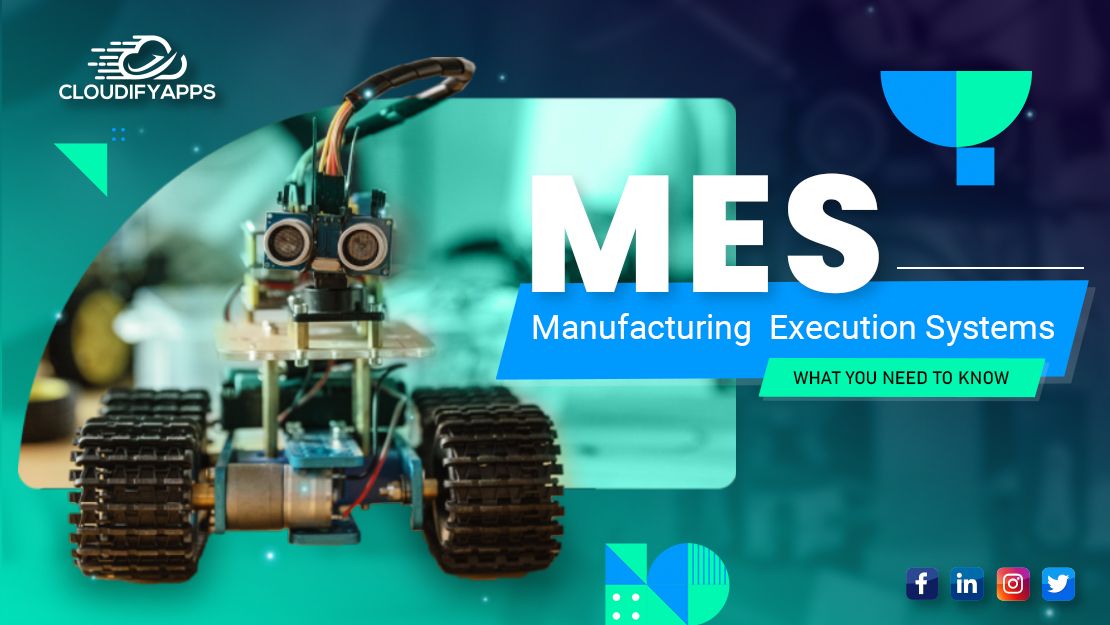 A manufacturing execution system (MES) is a software solution that helps manufacturers track, monitor, and control the manufacturing process