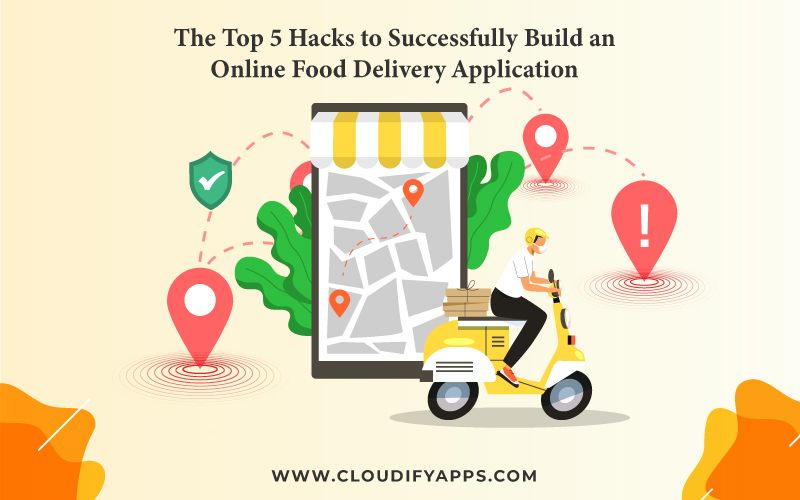 The Top 5 Hacks To Successfully Build An Online Food Delivery Application
Introduction

Online food ordering apps have become one of the most popular trends in recent years. The popularity of these online food ordering apps has risen dramatically, particularly in the aftermath of the Covid -19 pandemic. Those who previously did not trust online ordering have begun to order their favorite delicacies from the comfort of their own homes.

Everyone genuinely loves the convenience of having their desired dishes delivered to their doorsteps without waiting in a queue or even going out. Furthermore, because most individuals are constantly working 24 hours a day, they rarely have time or energy to cook. Swiggy, Uber Eats, and Zomato can be lifesavers in these instances.

These well-known companies and numerous startups are coming up with creative concepts in this industry and enhancing the consumer experience via passion and hard work. According to Research and Markets, the Indian Online Food Delivery Market is expected to be worth US$ 21.41 billion by 2026.

So, if you're thinking of designing and developing food ordering apps as a startup concept, this article will be pretty valuable to you.

5 Tips to Improve The Sales Of Online Food Ordering Apps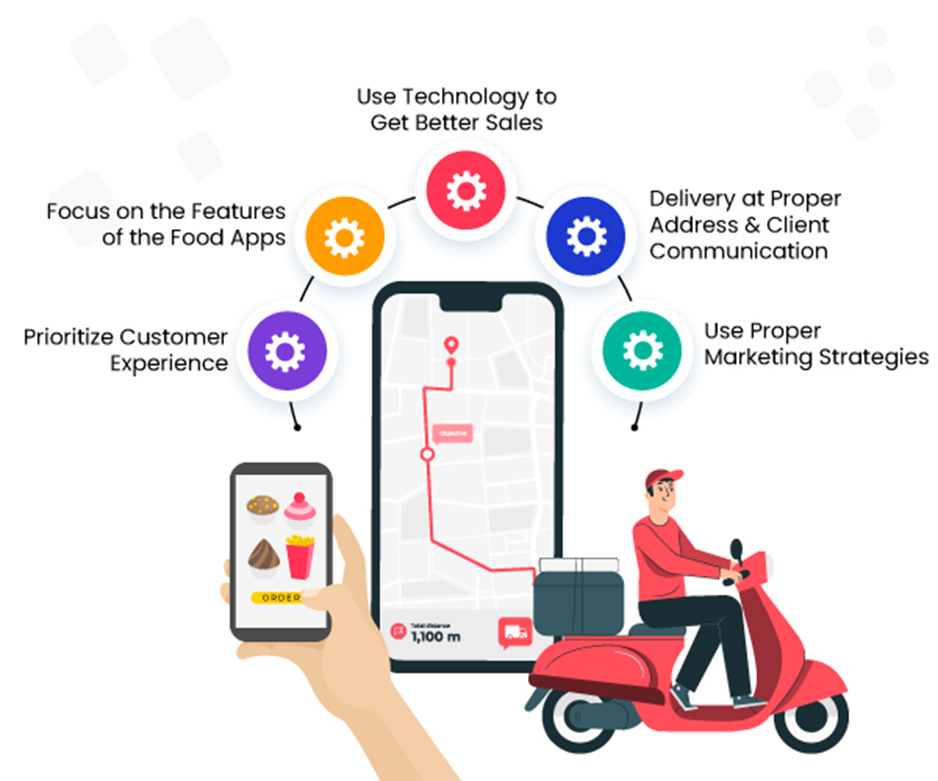 The following tried-and-tested methods will help you build successful online food delivery apps and scale up your food business effectively.

Prioritize Customer Experience
A positive consumer experience is essential for any business. Only if your consumers are satisfied with your services will they return to your business again and again. Otherwise, customer retention will be pretty challenging for you.

Deliver hot meals to the consumers. It has been observed that when food is brought cold, clients believe that the meal is not freshly prepared and, as a result, they dislike your service. However, if you offer hot dishes of food, customers will feel that the foods are freshly prepared. You may exhibit this by delivering the food dishes to the customers on time.
Secondly, don't forget to include the add-ons. If a person is eating a pizza and does not receive oregano or chilly flakes or the right add-ons, the entire consumer experience is ruined. If a person orders biriyani but does not have salads with it, he is seen to be displeased. He may not order from your restaurant the next time he visits. Furthermore, pack the required extras like napkins, cutlery, etc.
Don't forget to maintain adequate sanitization in the whole food preparation and packaging process, especially when covid is still sustaining on the market. Additionally, provide your food apps delivery boys with masks, sanitizers, face shields, and other protective equipment.
If they are transporting hot food, instruct them to use insulated bags to keep the hot meals warm. If they are delivering ice cream or other cold treats, demand that they utilize frozen ice.
Don't spill the food when you're packing it. Spilled dishes and sloppy packaging make the meal unappealing to customers and degrade the customer experience. Instead, businesses should employ suitable packing techniques.
Ensure that the delivery boys treat the customers with respect and modesty. They should not participate in obnoxious conversations with the customers.
As previously said, the packaging is critical in the food apps delivery business. You may employ customized packaging to make a good impression on your clients. This will highlight your brand's image and promote a positive reputation. You may highlight the restaurant's specialty or your application on the packaging with appropriate visuals to boost the aesthetics.

Focus On The Features Of The Food Apps

The application should be able to smoothen the experience of the customers. They should not get overwhelmed by the technical aspects of the application. Keep the functionality simple and the interface attractive.

You should concentrate on designing the registration form for your food apps, mainly for restaurant admins. They won't seem to reach out to its customers unless they include good photographs and descriptions of the restaurants. As a result, be sure that the restaurant administrators have the opportunity to create the ideal profiles for themselves.
Include the option for quick searching. A list of restaurants isn't an efficient concept. None enjoys spending hours searching for the restaurant where they want to order food. Instead, input the user's name and immediately receiving the option to call and order will improve the user experience.
Customers' preferences and recommendations should be displayed on the home page depending on their previous ordering. This will readily attract users, and they will wind up ordering meals through the application again. Furthermore, this saves time for the customers.
Arrange the restaurants into categories. You should constantly strive to make the customer's search as simple as possible. This may be accomplished by classifying restaurants depending on the sorts of dishes they provide (Indian, continental, Chinese, etc.) or location, among other factors. Customers will go to the tabs that will satisfy their hunger cravings.
Make profile maintenance more straightforward and more efficient, especially for restaurant admins and delivery guys, so that they can keep a good record of the orders they have previously received and delivered. This will help the delivery boys finish the timely deliveries to the correct addresses.
Include the rating and reviews feature in your application. Visitors may comment on the restaurants featured on the application, the various foods they have ordered, and the delivery services using this feature. Customers will be able to quickly determine where to order their food by reading the reviews. Furthermore, restaurants may read the comments and determine where they need to improve to provide a better consumer experience.

Use Technology to Get Better Sales

With time, technology has entered practically all industries, rapidly conquering them. Apps like Swiggy, Uber Eats, and Zomato have become the talk of the country in the food sector. If you plan to enter this business, you must be well-equipped with a technological support system to compete with others and secure a market position.

Restaurants should determine if they want to register their restaurants in online food delivery apps or create their online delivery websites or mobile apps for the same purpose. However, if they do so, they must connect it with the system of POS (Point of Sale).
If you own a website, make sure it is SEO optimized and has a decent landing page. Include attractive images and a strong heading on the landing page to attract clients. Besides, include a brief description of yourself, a CTA (call to action), and a list of top-selling food dishes. This will allow buyers to get an idea of your brand quickly.
If your restaurant primarily employs telephones for all other forms of home delivery, you may consider switching to cloud telephony. Typically, since there is usually a lot of workload and hubbub in the restaurants, the phone sometimes goes unanswered, so orders are sometimes neglected and sometimes even misplaced. However, if you have cloud telephony, the orders get transferred to the next accessible mobile number and continue until the phone is received. Furthermore, the list of orders is automatically maintained and hence cannot be missed.
If you use more than one online food ordering app, you should select a POS that automatically and seamlessly gathers orders submitted via the different online ordering providers. It can save you the time and effort of manually collecting and calculating orders at the end of the day. The effective use of technology may improve both your food delivery service and the customer's online ordering experience.
Use technology to improve the application delivery quality. Keep track of the orders and the riders simultaneously without too much trouble. Then you can assign the orders to the free riders that are closest to the delivery destination at the particular time. You may also use an inbuilt GPS to track and optimize delivery routes. Keep track of the delivery personnel and evaluate their performance. You can maintain the dispatch time, track your delivery team, and assess the time it takes for orders to be delivered with an adequately developed application.
When focusing on delivery, you should also focus on increasing the flexibility of payment alternatives. The worst thing that may happen is if clients quit the application at the final payment stage because their preferred payment option is not yet available. In addition to COD or cash on delivery, you can use the credit/debit card as an online payment method. This is the quickest and safest method of receiving money.
Delivery at Proper Address and Client Communication

After that, it's only a question of waiting. On the other hand, customers should not be left waiting for too long, especially if they are hungry. So, design an improved delivery system for your food delivery app.

Delayed delivery is prevalent in the current environment. Sometimes it's because the food takes longer to prepare, and other times it's because the delivery takes longer. To minimize late delivery, you should first enhance the application to assign orders to the riders who are free and at the nearest destination. They should contact the customers before accepting the order to confirm the landmarks. This will also avoid meal delivery at the incorrect address.
Ask the developers to put a GPS in the application so that the delivery men can find the clients' location and choose the more straightforward and less busy routes.
Correctly divide the responsibilities. There will be no mistakes if your kitchen and in-house staff know which packaging to use. Furthermore, the delivery personnel will not waste time matching the content of the meal to the orders given. There should be a well-managed delivery strategy that saves time, lowers mistakes, and reduces unnecessary efforts.
Customers should be able to monitor their orders as well. Incorporate the order tracking feature into the application. Users can obtain an estimate of how long it will take for their order to be delivered this way. Sync the delivery vehicle's GPS with the order tracking feature to provide even more accurate information.

Use Proper Marketing Strategies

Even the best company ideas will fail if they are not adequately promoted. You should use all potential marketing strategies to promote your application and generate more revenue. Remember, you must first reach the customers, and then only you can retain them.

To begin, if your application is web-based, use appropriate SEO tactics. Use enhanced meta descriptions, titles, 301 redirects, and URL slugs to ensure that your website appears in Google searches and is ranked quickly as possible. You can also employ content writers to generate blog posts for your websites and optimize the content with appropriately targeted keywords.
You may also use social media marketing to your advantage. According to Infographic's market research, 37 million social media visits resulted in about 529,000 orders. Facebook groups may help businesses grow their consumer base and drive more traffic to their websites. Pinterest and Reddit are also significant players in the game. If you invest carefully and use these social media channels correctly, it might be a real game-changer for your business.
Coupons and special offers are always proved to be successful. Ensure that you provide enough possibilities for free discounts and other similar offerings. These customized deals will both maintain and attract new customers. With a relationship dynamic with restaurants, you may give appealing incentives to users, who will become devoted consumers to both the restaurants and your application.
You can keep your customers engaged with the application using the push notification function. Inform consumers of current offers or specially crafted messages for their birthdays, festivals, and so on. However, please do not send them too many times. Sometimes following up too often without providing the necessary services may become too frustrating for the customers. These personalized messages will ultimately be rejected, and they can delete the application.

Conclusion

Having an online food delivery app in India is a fantastic method to boost your restaurant's income, sales, and overall profitability. Online food ordering is thriving, and it has entirely transformed how traditional restaurants operate.
However, you are not the first one to think about this. The rivalry is fierce, but there are two methods to cope with it. You can let the competition deter you from abandoning the concept entirely. You may also simply go ahead and take your risks. If you have enough faith in your idea, with the correct approach and plan, you can design food ordering apps that will quickly become a public favorite.
---
Popular Tags
Recent Posts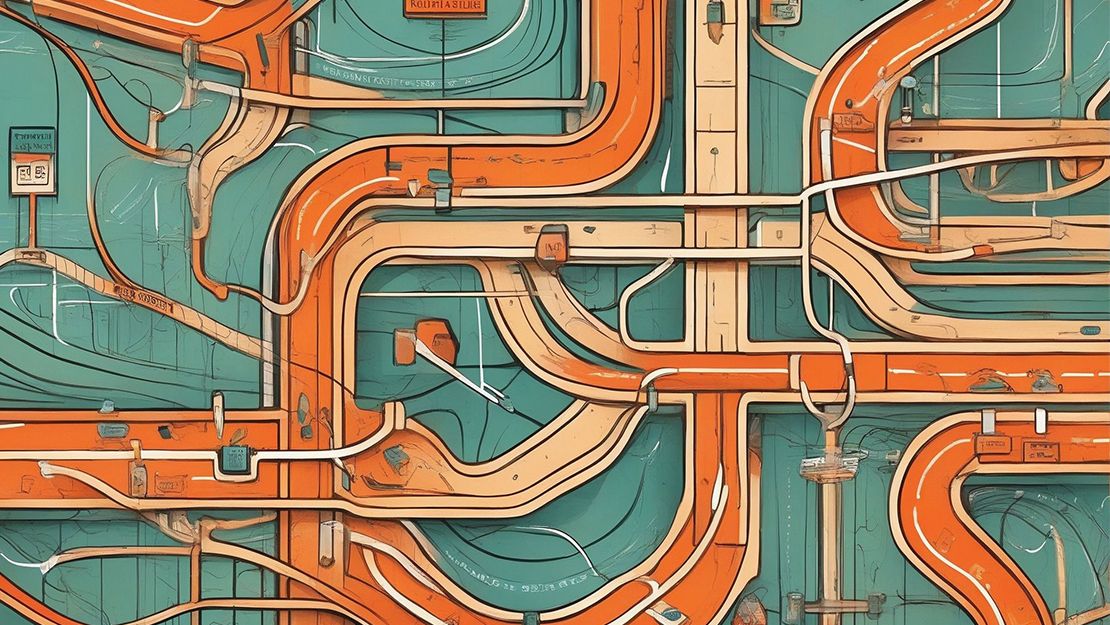 If you're a developer working with Laravel applications, you know how important it is to handle routing efficiently. The good news is that t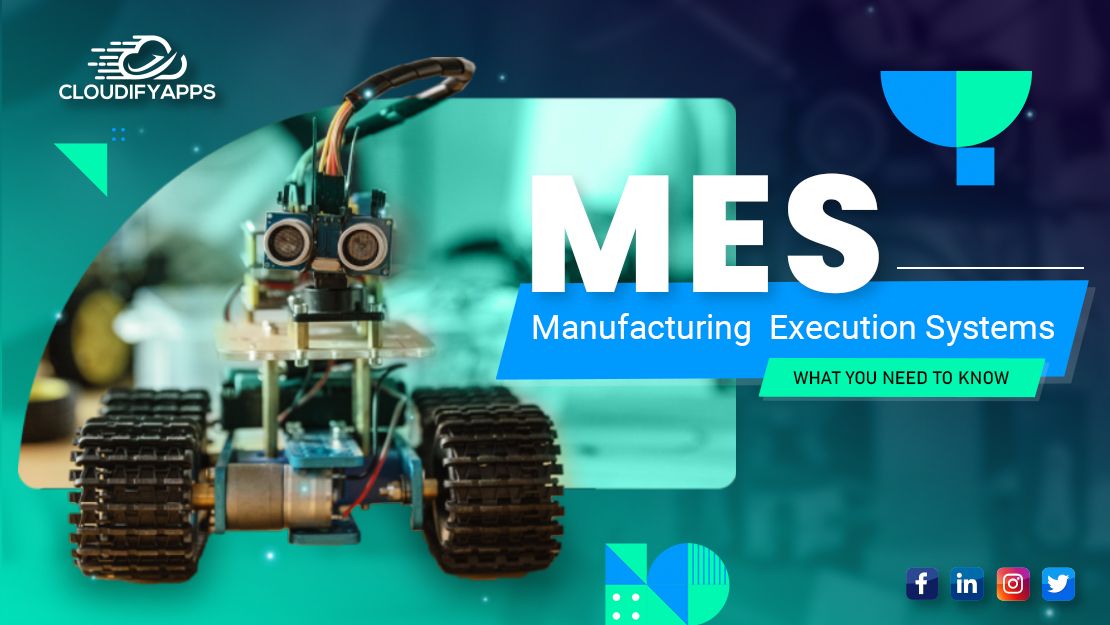 A manufacturing execution system (MES) is a software solution that helps manufacturers track, monitor, and control the manufacturing process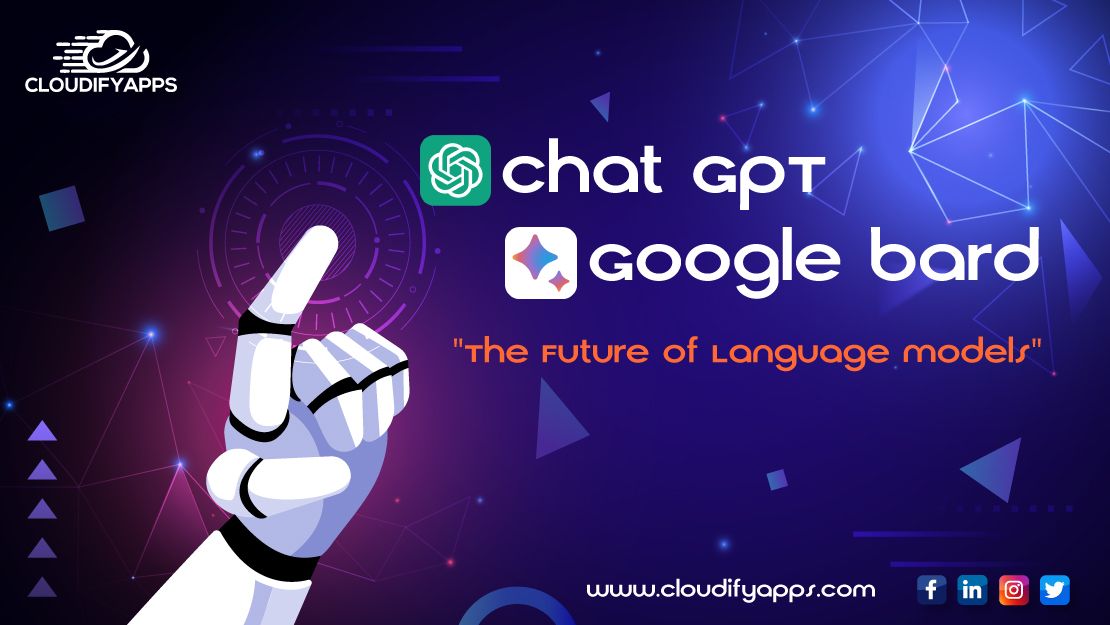 In recent years, there has been a surge of interest in large language models (LLMs). LLMs are a type of artificial intelligence (AI) that ca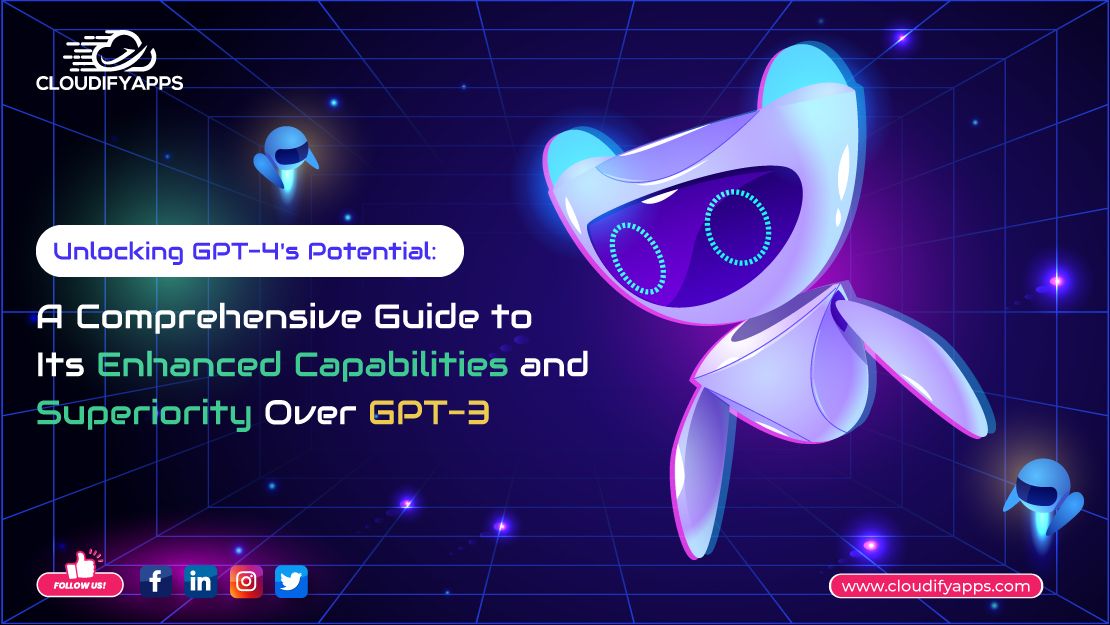 The AI community has witnessed significant advancements in recent years, and the latest offering from OpenAI, GPT-4, has taken the world by