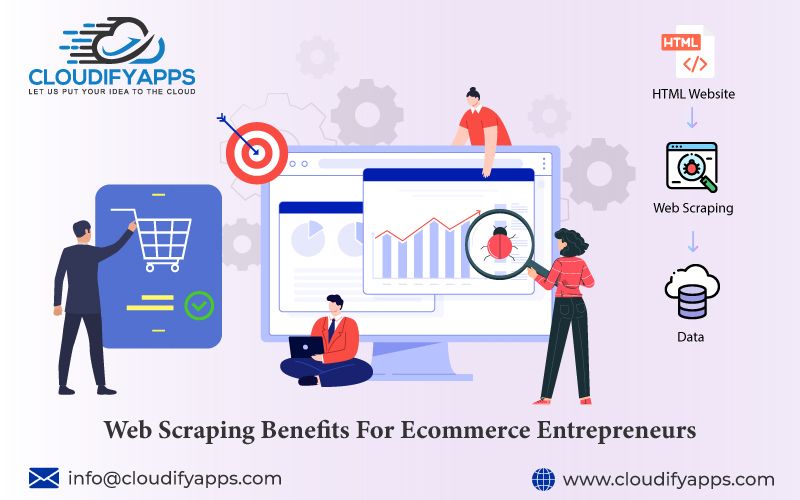 Web Scraping Benefits For Ecommerce Entrepreneurs
Introduction:

E-commerce websites are the deal today, providing a massive array of advantages for customers, making a substantial impact on their shopping life with comfort. It is evident from the fact that there will be an estimated 2.14 billion digital buyers in 2021. However, the competition is enormous; the internet has eradicated monopoly, which means you need to be great at what you do.

If your competitors hold up your target audience, you need to invest in strategies that will help you lure them back to your websites. Knowing what works for your competitor and employing the same will enhance your business profits and keep you in the market. Improvising, brainstorming, and personalizing your approach will help you in the long run and add a consistent stream of revenue for your E-commerce business.

This is the advantage web scraping E-commerce websites provides to your business. You are exposed to relevant information, news and updates, with an insight into the buying preference of customers. As the owner of an E-commerce website, this information will give you the edge you seek.
You can also automate your business processes to reflect current trends, following the information you have sourced by web scraping competitor websites. Your place as a significant player will always be guaranteed. This article will expose why web scraping E-commerce websites is the new gold.

What Is Web Scraping?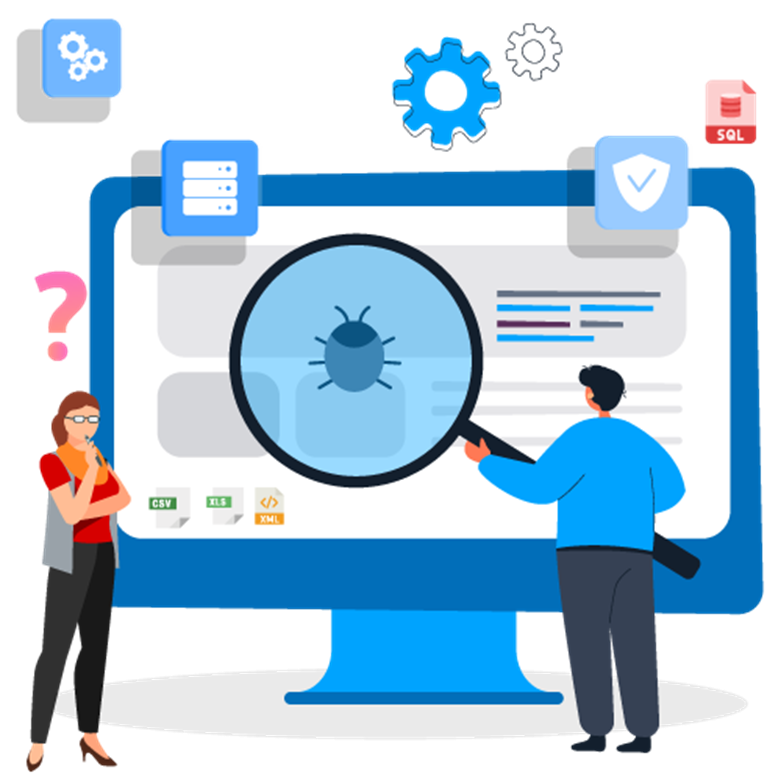 Let's take it off from the basics, what is web scraping? Simply put, it is the process of extracting data from websites. The extracted data is used to improve one's website and products, to bridge the business gap between the competitor and your website.

Customer data gathered by web scraping services are often used to forecast the market of products, as it creates a comprehensive market and products analysis. Web scraping enables businesses to employ bots or automated scripts known as web crawlers to automate web data collection. More than 5 billion users are generating billions of data points every second, and to stay competitive in the market, businesses need to take advantage of such data.

Using a web scraping tool to harvest/collect/crawl web data involves making requests to a page and extracting machine-readable data from it. Web scraping helps businesses stay relevant by enhancing their reliance on analysis and automation. This is done by:

Automating data collection processes at scale
Unlocking several web data resources that can add value to the business
Making fast, informed, and improved data-driven decisions.

With an estimated 27.2% of the global population shopping online, there has never been a better time to establish an E-commerce business. However, like other businesses, it relies on data to streamline procedures and make things more enterprising for the customers. Thus, web scraping can be a highly useful process for E-commerce businesses. Price and product development are the twin pillars of business growth, and with web scraping, entrepreneurs are given these keys at a go.

How Does Web Scraping Work?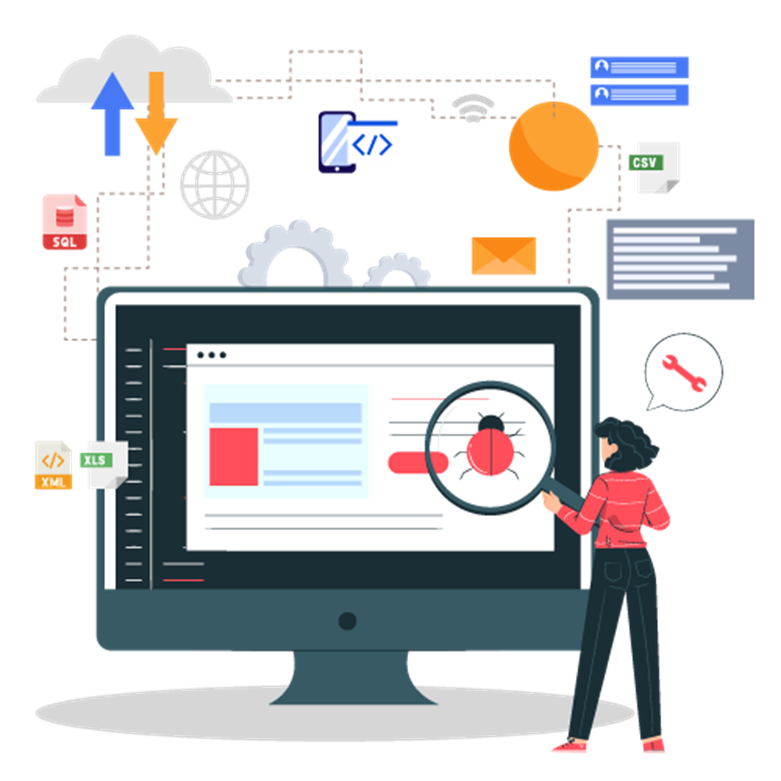 The usual web scraping processes involve the following steps.
Identification of the target URLs
Detecting whether the website to be crawled uses anti-scraping tools. If it does, the scraper needs to choose the ideal proxy server to get a new IP address to send a web scraping request.
Requesting the target URLs to get the HTML codes.
Employing locators to find out the location of data in HTML code.
Parsing the data string containing the information.
Converting the scraped data into the desired, machine-readable format.
Transferring the scraped data into the preferred data storage option.

Now, it is time to share the benefits that web scraping can offer to E-commerce entrepreneurs.

Ten Benefits Of Web Scraping For Entrepreneurs: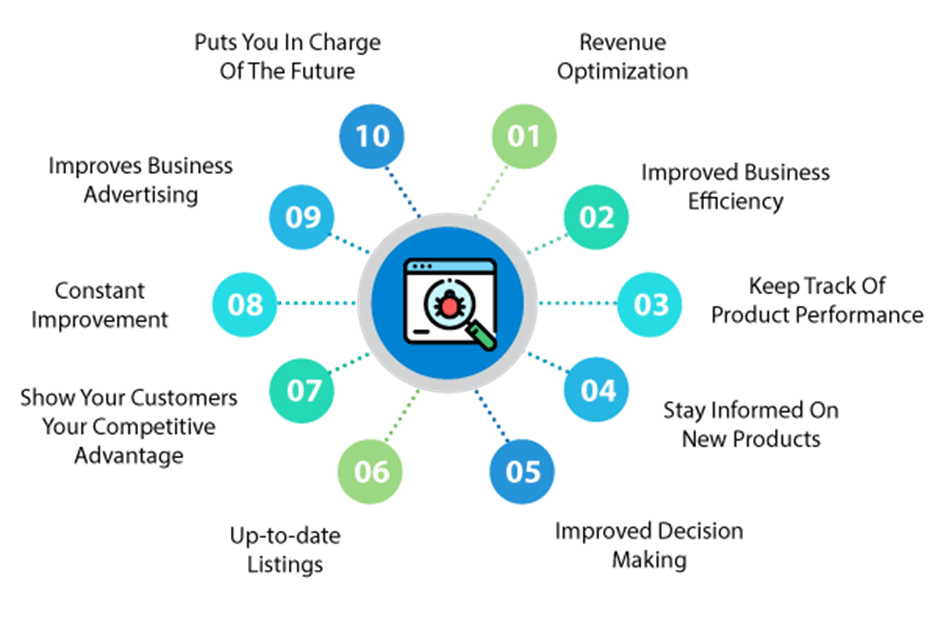 E-commerce is slowly taking over and becoming a crucial part of global commerce. E-commerce will make up 22% of the global retail sales by 2023. It is becoming a more integral part of the consumer experience, and hence there are many opportunities for entrepreneurs to venture into this field. If entrepreneurs are web scraping E-commerce websites, they will obtain a lot of benefits, as mentioned below.

Revenue Optimization:

To optimize revenue, businesses need to do the following things efficiently.

Pricing Optimization:

This helps E-commerce entrepreneurs to align their pricing standards with the market demands and helps their products to flourish. To pull this off successfully, customer data gathered by web scraping services will come in handy. The data can be classified into customer survey data, historical data, demographic data, and psycho graphic data. A successful pricing optimization will increase the customer's willingness to pay.

Profit Optimization:

This involves maximizing the possibility of the sales team venturing and converting leads. As a result, the profit per customer increases. Since this process depends on how well you perform your segmentation and data collection, E-commerce web scraping services are highly beneficial. Also, these tools help the sales team to zero in on those customers who would find the products useful and stay committed to the specific E-commerce platform long-term.

Marketing Optimization:

Once the pricing optimization reflects the value and the profit optimization delineates the kind of leads willing to pay for the products, there should be a successful marketing optimization to reach out to them.
Inventory Optimization:

It involves optimizing your processes, starting from manufacturing to supply chain management.
All of these procedures require an incredible amount of data that is made possible by web scraping tools.

Improved Business Efficiency:

With E-commerce web scraping services, your business will grace a facelift that is necessary to accelerate profit margins in your favor. Here you can harvest data, which you can use to automate your business processes and stay in line with what is obtainable in the market at every given time.

You will be able to save valuable time off your schedule using an automated web scraping service for E-commerce website. This can be done by using web scraping technology's full potential and initiating data acquisition to generate leads reliably and at a quicker pace, feed the newly structured data in the marketing automation or CRM system, build a custom product catalog, create an SEO auditing tool and much more.

Keep Track Of Product Performance:

Using customer data generated by web scraping services, you will be able to monitor your listing and work on your sales data. These help you know your performing products, build on them, and put energies where results are generated.

You will also be able to see how your products and listings are faring compared with other products of the same breath in the market. Collecting data from the internet will help you develop more innovative products in a shorter time and market them faster.

Stay Informed On New Products:

Change is the only constant in the business world, and the entrepreneur should always have an idea of the dive the market is taking. It will be out of place to hold on to sold-out products when busters move in a new direction.

E-commerce web scraping services will allow you to constantly stay updated with relevant information on new products and customers' preferences. This way, you will be able to know in time when the market has taken a new position.

An early bird entry into the market is an advantage you enjoy when using an automated web scraping service for an e-commerce website.

Improved Decision Making:

Data extraction comes with a dozen advantages that cut across almost every facet of our business life; it offers benefits that are not limited to just monitoring competitors' activity, text, and images. The extracted data can be used for market research and other things like machine learning.

With an arsenal of information at your disposal, you can easily make business decisions that will better your fortunes as an entrepreneur. You can easily forecast the market and take positions that fit best, which is excellent for your business.

Up-to-date Listings:

If there is one uncomfortable thing that manual updates have- it is the long and tiring process involved in it. Data mining will allow you to scrape images and information that will make it easy and fast for your uploads to happen; this way, you stay in the middle of what is happening in the industry. Using a data extraction catalog, you will never lose updates necessary to keep you in business and allow you to grow.

Show Your Customers Your Competitive Advantage:

Customers are always in to save money. While value is important to them, they always want to keep off some extra dollars while getting the best products in the markets. This is where web scraping comes in handy; it helps you to sow your competitive edge.

Here, you can give your customers a pipe of the competition and show how your price and product are best for them; with this knowledge in place, you will always have a fine run with your profits. Your customers will trust the fact that they are saving dollars when they buy from you.

Along with this lies the sentiment analysis that can only be achieved with an automated web scraping service for an E-commerce website. Web scraping combined with NLP will help you understand how your customers are reacting to your products, uncover their feedback on the products, and efficiently conduct your service campaigns.

Constant Improvement:

A good businessman seeks to better the margins every quarter. If the business is not making consistent improvements along this line, a collapse will result very soon. You are either moving forward, or you are staying put; there is no middle ground.

Automated web scraping services for E-commerce website will give you the edge to evolve and stay in the market. You will have a fine detail of customers' feedback and streamline your processes depending on the market trends, thereby developing your stocks to meet the expectation of your customers. If you keep enough customers happy, your fortunes will skyrocket.

Improves Business Advertising:

Adverts are necessary ways to sell your business to the budding public. However, knowing your target audience and where and when to advertise is what differentiates the adverts that convert and the ones that don't bring a dollar back to the purse. An automated web scraping service for E-commerce website will do the job for you, whether it is paid advertisements, social media marketing, referrals, organic or direct channels to bring traffic.

Using a web scraping tool for finding keywords that rank high and virtually unbeatable keywords in terms of organic or paid marketing will help you with exposure and give you better clicks. A thorough scrape and text analysis of sites can give you an insight into titles, links, descriptions, keywords, and more.

You will have finally extracted data that shows you adverts from your end and that of competitions that are working; you only need to develop your customized adverts in this direction, and you are good to go. This is your best bet on the products as your business is shown to the expectant public.

Puts You In Charge Of The Future:

Web scraping will put your future in your hands and have you dictate the rules of work and business. With an insight into the market and its players, you also enjoy a fine forecast of your market using current indicators. This way, you can tell what will happen and just how.
Thus data extracted from the web will give you a window to do business projects that will suit you and the position you wish to take in the market. You call the shots here, so plan the future accordingly.

Things To Look Out For In A Website Scraping Tool: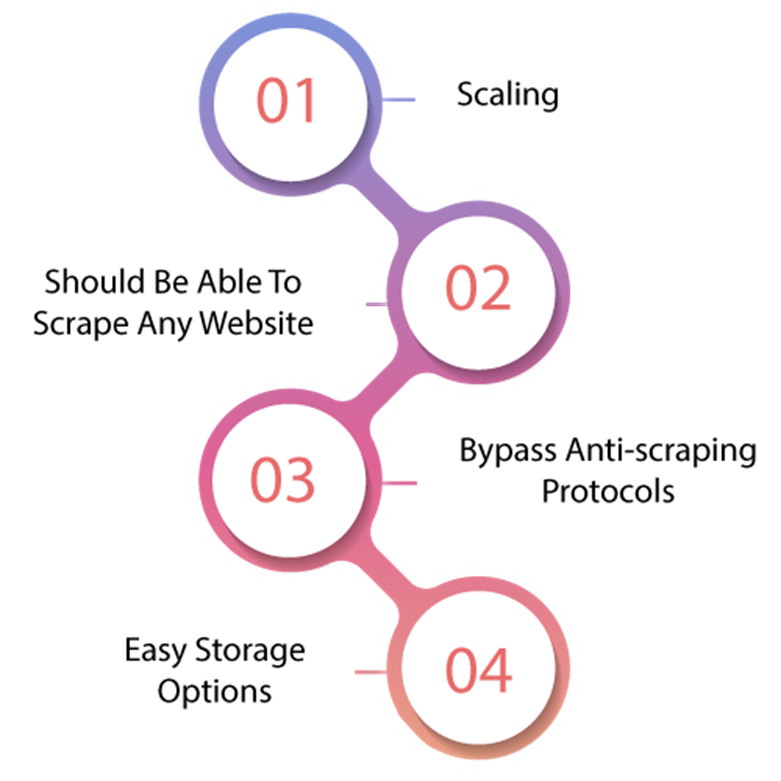 With the advantages listed above, you cannot deny the truth that your business needs a website scraping service to take advantage of the benefits that exist. It is easy to make this choice; the somewhat tricky decision will be the platform for this service, owing to the plethora of existing platforms.
Here is a detailed guide on choosing the best platform for your website scraping service and how to make the best efforts off it.
1. Scaling
2. Should be able to scrape any website
3. Bypass anti-scraping protocols
4. Easy Storage options
Conclusion: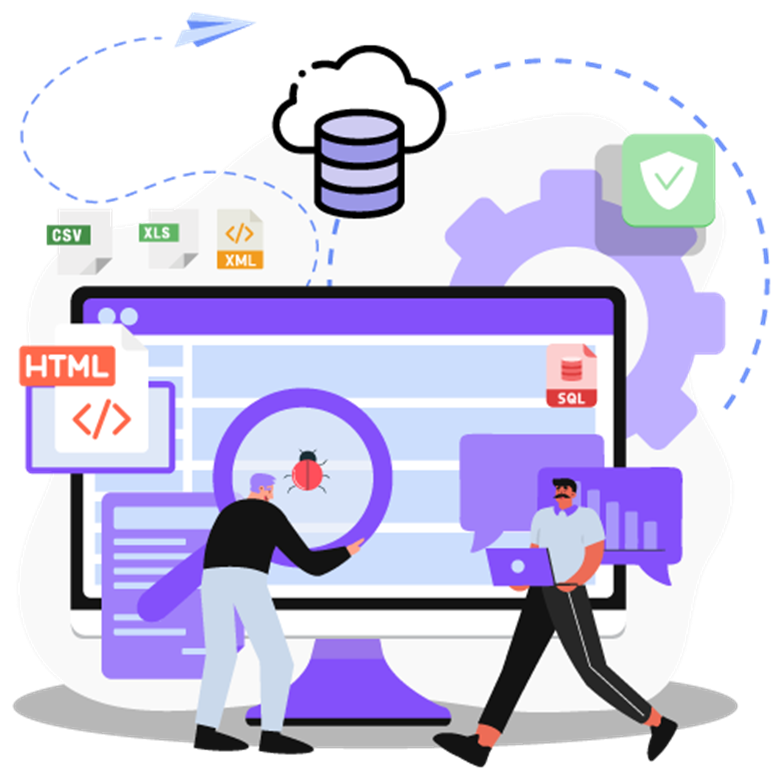 Keeping your head above water in business is a veritable tool you can always rely upon to get the best out of your competition. You should not be in the dark on the happenings in your industry; a good business goal will place you in the right spot for the right moves at every time.
This is the advantage that web scraping offers your business, an opportunity to take the best shots at the right time and always to win your cards. You have your eyes on your competitors, and you can monitor their moves every step of the way. This is a great way to beat the competition and get going.

---
Popular Tags
Recent Posts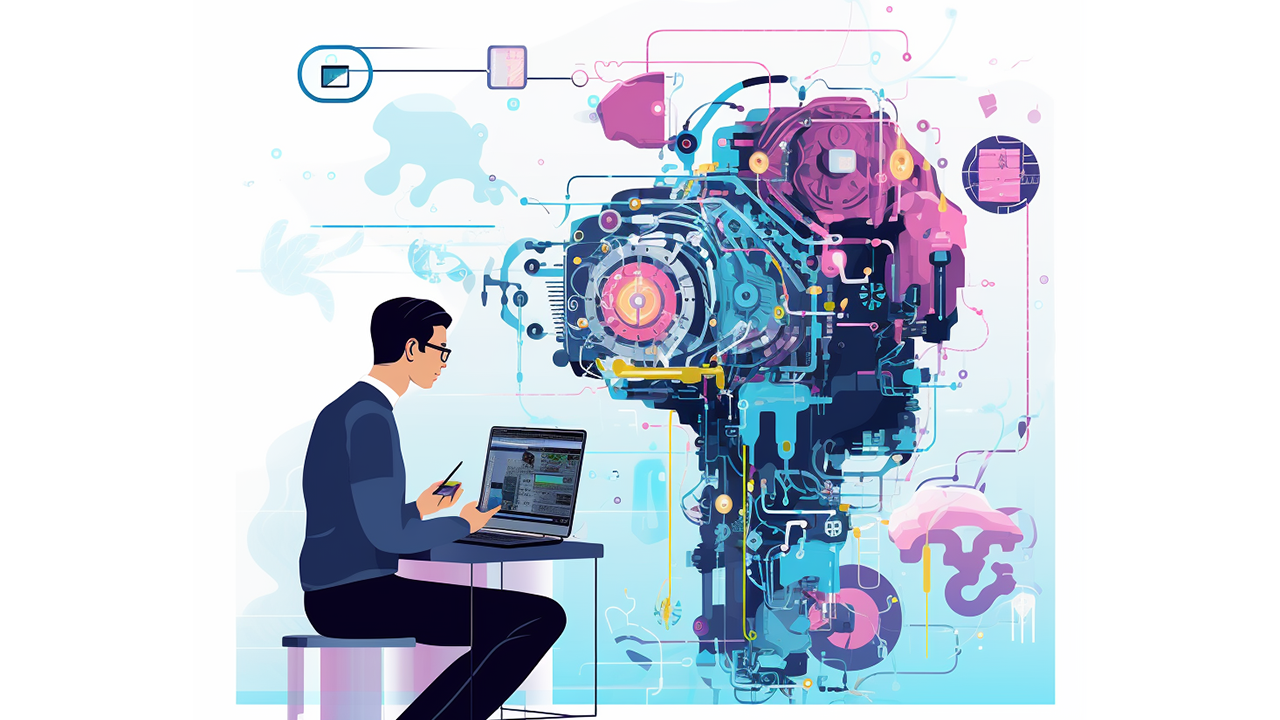 Introduction In the evolving landscape of artificial intelligence, keeping chatbots and digital assistants informed is crucial. Retrieval-A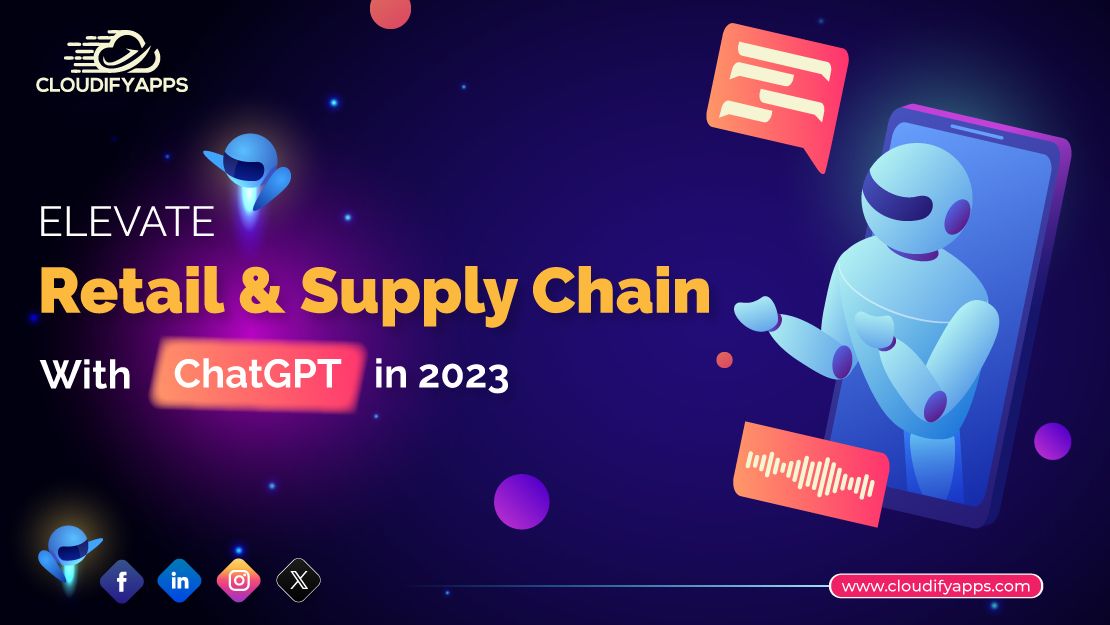 ChatGPT has emerged as a groundbreaking tool in the realm of artificial intelligence, offering capabilities that extend beyond mere chatbots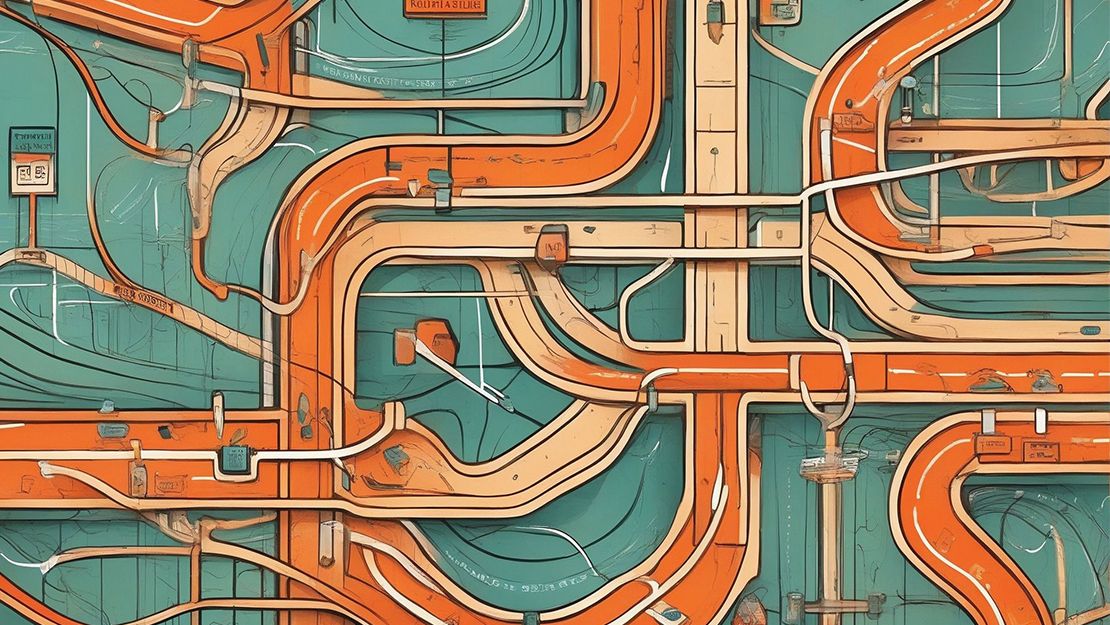 If you're a developer working with Laravel applications, you know how important it is to handle routing efficiently. The good news is that t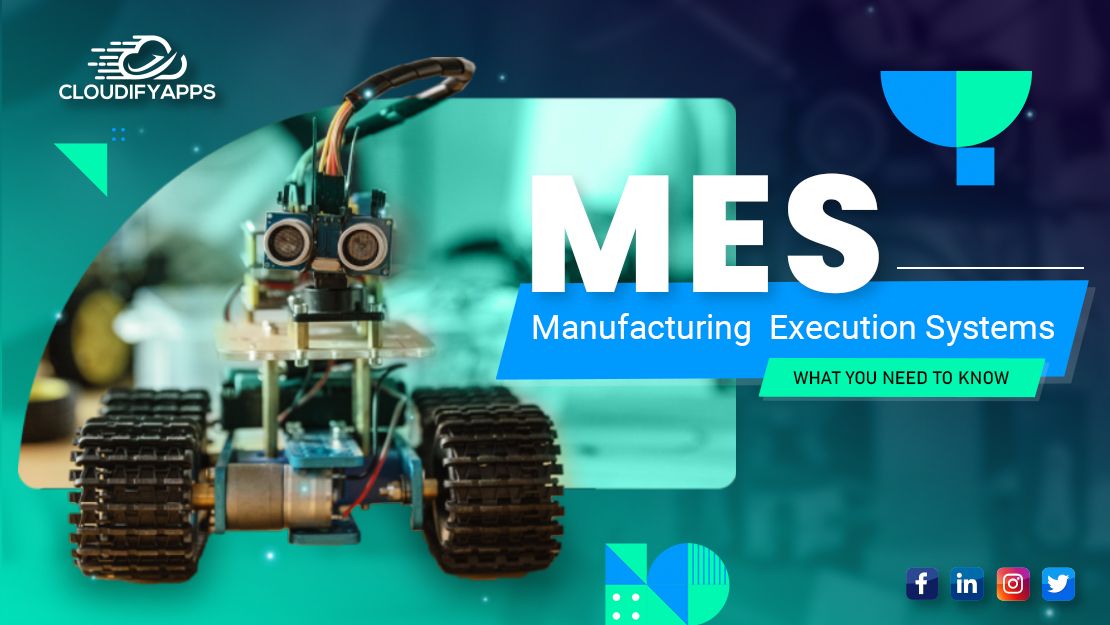 A manufacturing execution system (MES) is a software solution that helps manufacturers track, monitor, and control the manufacturing process