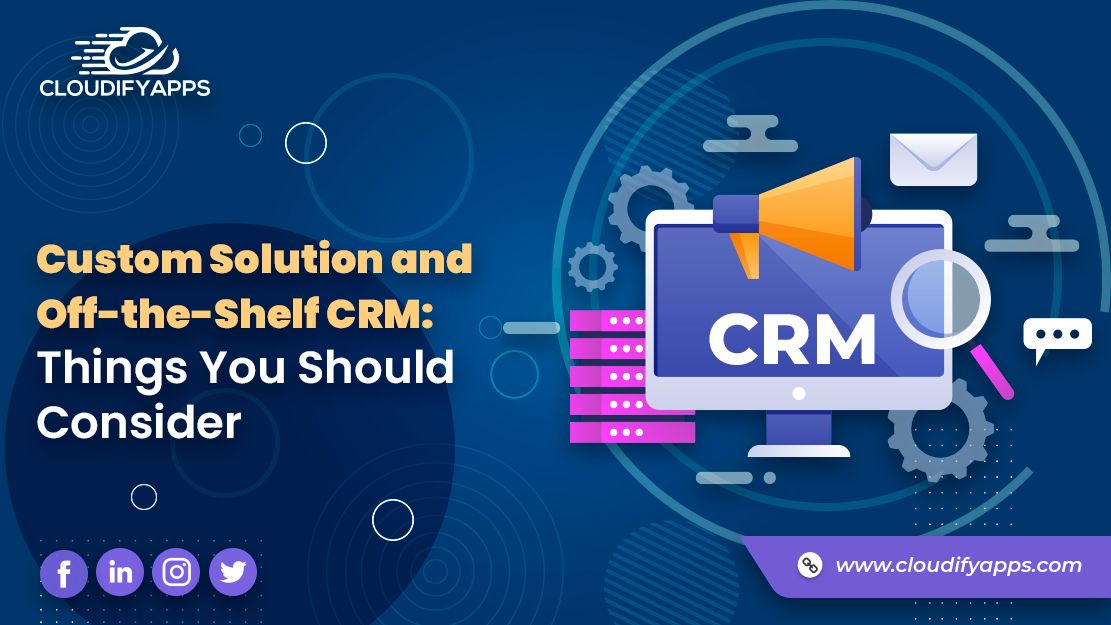 Finding the Right Choice Between Off-The-Shelf CRM Solution vs Custom Solution Development
While browsing on your device, you might come across several organisations providing Off-the-shelf solutions for their business enterprise, which eventually serve as appealing business ideas. An Off-The-Shelf CRM System integrates features that organisations usually deal with daily and addresses general challenges. This system is highly functional and also includes parts which might be unnecessary.
On the other hand, another Custom Software Development gives built-in solutions keeping the company's needs in mind. Hence, a Custom CRM System is a tailor-made solution for your business. It is designed to keep your operations flowing and help you optimise your workflow.
What Exactly is an Off-The-Shelf Solution, and What are its Advantages?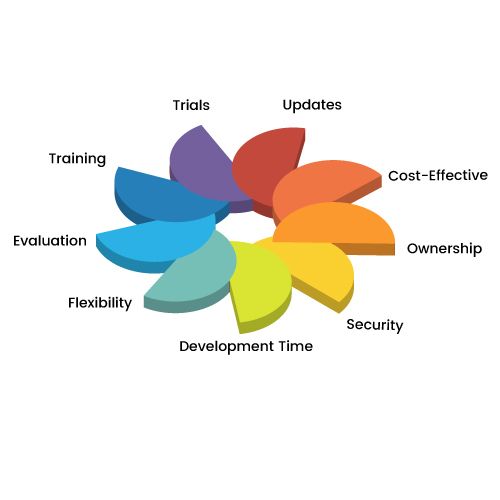 An Off-the-shelf CRM provides a basic set of functions which is highly effective for smaller businesses. The main advantage of an Off-The-Shelf CRM System is system utilisation, where you only require Internet access and any browser.
The advantages that an Off-The-Shelf CRM System holds are as follows:
1. Cost-Effective: Off-the-shelf solutions are much more economical than Custom CRM Systems in terms of their upfront investment. It's more economical to buy generic software than commission custom-built software to address only your specific needs.
2. Ownership: Any solution like this is bought as a regular product so the ownership can be transferred to the client company. In addition, the exact product is sold to several companies, even those in direct competition. However, it should be noted that the ownership isn't the same as the intellectual property of the solution's prototype.
3. Security: The CRM solutions are safe and secure if a reliable and experienced provider develops the product. Failing this criterion, Off-The-Shelf CRM Solutions may bring security risks and no customer service support.
4. Development Time: Any solution based on an Off-the-shelf CRM system requires less time, and the Off-The-Shelf CRM product will need only some branding optimisations. Since its time requirement is minor, solutions are readily available to any developer worldwide.
5. Flexibility: Pre-existing software generally offers the Off-The-Shelf CRM System with a significant number of features which can be run after a quick setup and implementation process.
6. Evaluation: A co-existing Off-the-shelf software offers reviews to the users before they purchase the product online. One such way is a forum where users usually post about the queries they have while using the software.
7. Training: Since off-the-shelf software is pre-existing, there is no need to train them separately. Even if they are unfamiliar, various training materials and tutorials aim to provide knowledge about the software. Hence, no separate effort is required for training.
8. Trials: An Off-The-Shelf CRM system is pre-programmed. Hence, it offers a free trial to the user. The user can try how the software works before using them. However, the trial version of the software may not always be available, and the user might have to pay discounts to test the software.
9. Updates: Any updates in an Off-The-Shelf software takes place automatically, and the developer itself carries it out. These updates ensure regular maintenance, the latest features and bug-free software. However, updates occurring unknowingly might disrupt the system.
Read also: Why Do You Need a Custom CRM For Your Business?
What is Custom CRM Development, and What are its Advantages?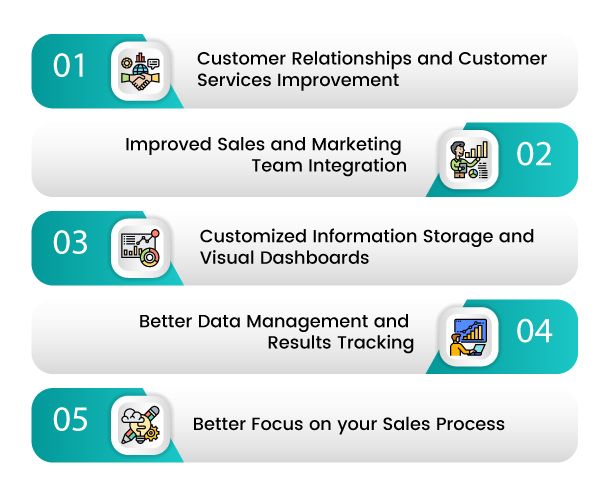 A Custom CRM System is a tailor-made Customer Relationship Management (CRM) system where your processes become more efficient. Such a platform also improves customer interactions, employees' productivity and workflow. A custom CRM platform helps keep clean, structured and organised data related to CRM, such as sales cycle, personal information, notes and metrics of your company.
A Custom CRM Solution not only offers to target different audiences, engage potential customers, and send out alerts on individual leads and customer activity but is also designed to fit all departments of your business and ensure an incredible customer experience and ease the tracking and monitoring processes. Such Custom Software Solutions also increase the productivity of our team.
The advantages of a Custom CRM solution are as follows:
1. Customer Relationships and Customer Services Improvement: A customer's happiness is always crucial to any business success. They are the ones that control the financial health of your company. Custom Software Solutions offers a smooth customer journey and a flawless user experience on mobile or desktop. You can build customer loyalty, and they will eventually become your brand promoters. Custom CRM Platforms have an essential role in making this happen by recording continuous feedback and understanding a user's needs, preferences and habits. Your Custom CRM System is a powerful tool for the sales unit to outreach their efforts and for the customer service team to solve user issues proactively.
Customising the dashboards based on your company processes saves time and makes the potential customers and current customers feel valued when your in-house team is proactive and insightful.
2. Improved Sales and Marketing Team Integration: Custom CRM software allows client analysis and segmentation. Marketing and sales teams can personalise a customer's effort and approach with suitable campaigns. You will achieve the best results through marketing and sales funnels. Custom CRM Development will allow your team to work together by joining their forces in offering a consistent experience across all communication platforms.
All the relevant real-time data can be accessed when marketing and sales departments can work in alignment. Customised CRMs offer to create marketing and email campaigns based on customer segmentation. Marketers usually create the campaigns most fitting to a customer's journey, interests and user behaviour to help the sales activity, increase client retention and customer engagement, identify new sales opportunities and generate sales leads.
3. Better Focus on your Sales Process: Custom CRM Software enables the automation process, eliminating the need to execute repetitive tasks, and you will have more time to concentrate on what matters to you. This entire process has an effective strategy to focus on your active customers and potential needs. Hence, you can focus on quality needs, reduce sales cycles and improve conversion rates.
Customer history data, possible lead identification, sales opportunity and returning customers also enables Sakes forecasting. In addition, you can quickly identify pain points in your sales process, such as unanswered emails and calls which need to be followed up. A CRM offers a 360-degree view of each customer from their first contact with your company until the end. You can also increase a customer's satisfaction, engagement and sales by setting up customer reward systems and personalised communication.
4. Customized Information Storage and Visual Dashboards: A Custom CRM Software Solution aims to improve business performance and optimise organisational processes. Custom CRM software stores all your information in one place, and all departments have access to them. Any company might face issues keeping data in different areas, requiring additional data access permissions and giving the proper key.
The data search process can be time-consuming and chaotic. By implementing a Custom Software Solution, you will no longer use spreadsheets to manage your company and no more manual tasks for reports and presentations. Instead, this entire process can be done with different visual dashboards for every employee with login credentials. Keeping all data handy reduces time in searching for information and increases productivity. For Example, Sales Managers can only focus on the key performance indicator for their departments, such as calls per hour and lead generation. On the other hand, the marketing director can concentrate more on metrics for email marketing, such as click-through for each campaign. In addition, Custom dashboards allow comprehensive customisation in displaying the essential data for each type of user and improve the workflow.
5. Better Data Management and Results Tracking: Data Management accounts for an essential part of any business and can be collected through several resources such as social media platforms, Google Analytics, Google Search Console, apps, business software and CRM. It becomes relevant after segmenting, cleaning, analysing, and making it actionable. A Custom CRM System will record your data and pertinent metrics, making the collection and sorting easier to interpret according to its customised features.
The most significant benefit of CRM platforms is that they allow you to see your company's interaction in terms of sales productivity, customer retention, etc. You can also run reports to identify new opportunities, the level of engagement with leads and customers, trends in sales, customer service efficiency etc. Custom CRM Systems work with Artificial Intelligence (AI) that will give you insights on how to work with leads to convert them into opportunities.
What are the Disadvantages of an Off-The-Shelf CRM System?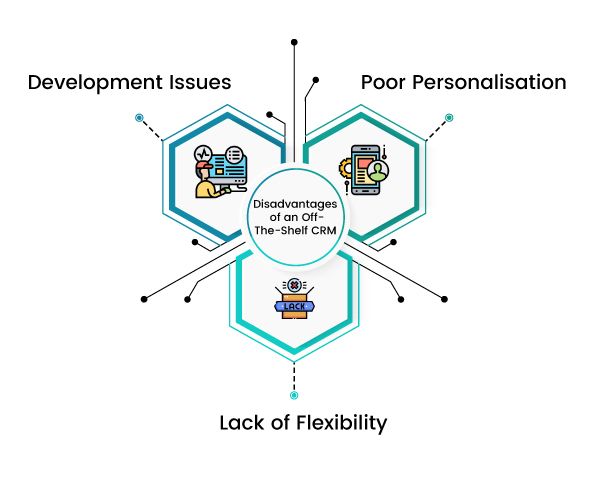 In terms of personalisation, application flexibility and further development, I have divided this category into the following types:
1. Poor Personalisation: An Off-The-Shelf CRM System offers a disadvantage if it is poorly tailored to a company's individual needs. It has specific software designed to work in every company in every field. Therefore, when choosing an Off-The-Shelf CRM System, we should not expect an individual approach or solid support. Some software may offer those, but you might be charged extra for that service.
2. Lack of Flexibility: The main issue we encounter is the lack of the possibility to add new functions to the system. Some software houses will offer this option but at a considerable cost. These solutions also determine the way you perform your work within this system. Ready-made solution modules are not provided in this system which forces the users to adjust their work to the system. Also, such software solutions can only be used by a limited number of people, which may bring an issue if your company already uses another approach.
3. Development Issues: Off-the-shelf software may update independently, but these solutions cannot be further developed with your growing business. Since these systems cannot be modified, you will have to implement a completely new design that is expensive and time-consuming.
What are the Drawbacks of a Custom CRM Development?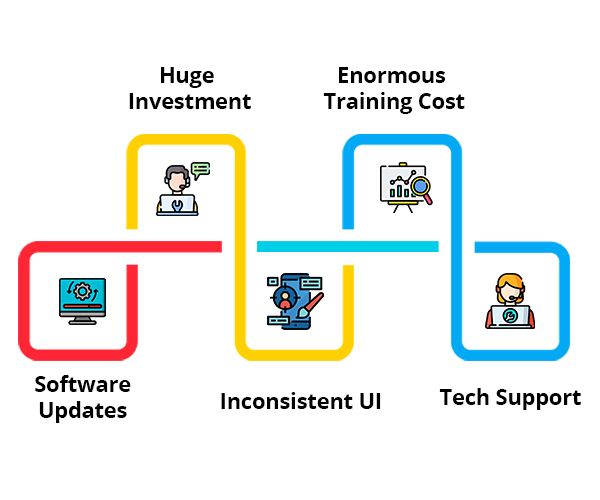 Customised software solutions may bring many opportunities and advantages for your company but also several disadvantages. Some drawbacks are listed below:
1. Huge Investment: The cost of designing and creating a Custom CRM System is almost always higher than the cost of a subscription. Developing a CRM package from the beginning can cost ridiculous money to develop in-house or outsource to a development company. Building a CRM is not an easy project; it's a fairly complex software build requiring a substantial investment.
2. Enormous Training Costs: Most Off-The-Shelf CRM Systems include free training material like videos, tutorials and articles. On the other hand, a Custom Software Solution won't create a library of tapes or tutorials to operate such software. You'll need to create them or pay the Custom Software Developer extra to create training videos for you.
3. Software Updates: Software updates constitute an essential development of our life. To keep running a system smoothly, you have to update them periodically to fix bugs or improve the usability of the software. Most Custom Software Developers will fix bugs for a limited time. Still, it's not feasible for a Custom Software Development Company to keep updating the software without any cost indefinitely. With your growing business, your needs and client base will also grow, and you will want a CRM environment that grows with you. Unlike any Off-The-Shelf CRM Solution, you will not have a team of developers working in the background to bring updates daily.
4. Inconsistent UI: We all know that Custom Software Solutions are familiar and intuitive to the employees. However, the User-Interface (UI) and capabilities of a custom-built CRM can be different. Matters like managing your leads, recording a call, reminders about appointments and nurturing client calls should be consistent and with an Inconsistent UI; these things might affect your business growth.
5. Tech Support: Another aspect of any Custom Software Development Company is live supportability. Most Software Development Company provides numerous options of tech support, giving entrepreneurs many types of assistance to meet the requirements of their customers, whether that's a phone call, live chat or email support. However, to use a Custom CRM System, you will need to pay extra to support your team perpetually.
Which Type of CRM Should You Choose for Your Business?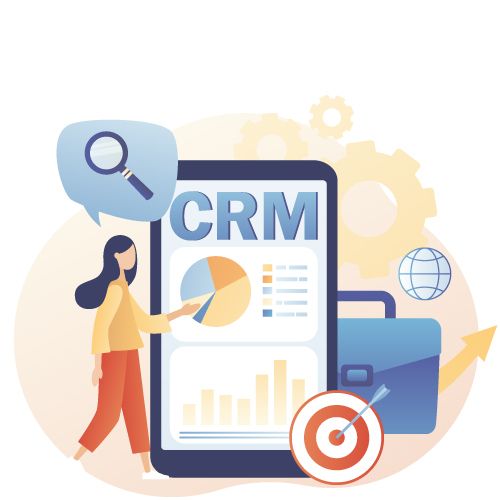 Everything requires resources for support locally and on the server-side, whether built in-house or premade. The time and resources needed to make a CRM system are substantial, keeping in mind its maintenance and improvement. Custom building a CRM requires a large cash pay-out and an ongoing financial and personnel cost for bug fixes, support and training. If you are comfortable with such expenses, you can use a Custom CRM System. Otherwise, Off-the-shelf CRM System is your answer, which is very cost-effective and provides free training.
On the other hand, if you are looking for streamlined software with a uniquely individual process that integrates with external systems and considers future system development, then a ready-made solution may not be sufficient for you. In that case, you have to go for a Custom CRM System.
To summarise everything, if you are in a fast-paced business environment and have massive growth, then we recommend a Custom CRM Solution because, in that case, you won't face a financial issue. However, if your business goal is to stay small and has a limited number of users, then an Off-The-Shelf CRM Solution is better.
How to Choose the Perfect CRM Software Solution Developer for Your Business?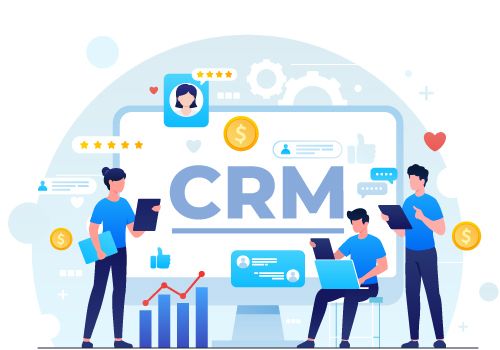 Choosing a Software Development Company is crucial as it should be competent to handle your customer database, sales and client support. In the following points, we will go through the following points worth noting and get knowledgeable on the top tips.
1. Check the Technical Expertise of your Developer: Every entrepreneur wishes to optimise their business goals at the most affordable cost structure, including a unique combination of efficiency and affordability. Therefore, it is imperative to check the technical expertise of your developer before finalising associations with them.
2. Search for Developers Offering Scalability: While purchasing CRM software, look for the Scalability of the software. Choosing a Custom Software Development Company that grows with your business is crucial. Hence, it will save you substantial finances, and you will not have to incur additional costs in updating the software.
3. Look for a Flexible Solution Developer: Simple and easy-to-use CRM Solution offers complete flexibility of operations for your workforce. Prepare a comprehensive list of developers in the market and look for the ones offering free trial or software evaluation programs. Also, check for the utility for your enterprise.
4. Checking Developer Reputation: Analyse the Software Development Company by checking the reputation and credentials of your developers and associating trust with your developer before finalising associations with them.
Conclusion
The preceding discussion shows that having CRM Solutions will always nurture your Customer Service Management which will eventually boost your business like anything because, in the end, you will consistently profit from your customer's happiness and loyalty. Ensuring an environment using Custom CRM Solution or an Off-The-Shelf CRM System will produce some magical output for your business. Thanks to the long-term benefit they offer.
---
Popular Tags
Recent Posts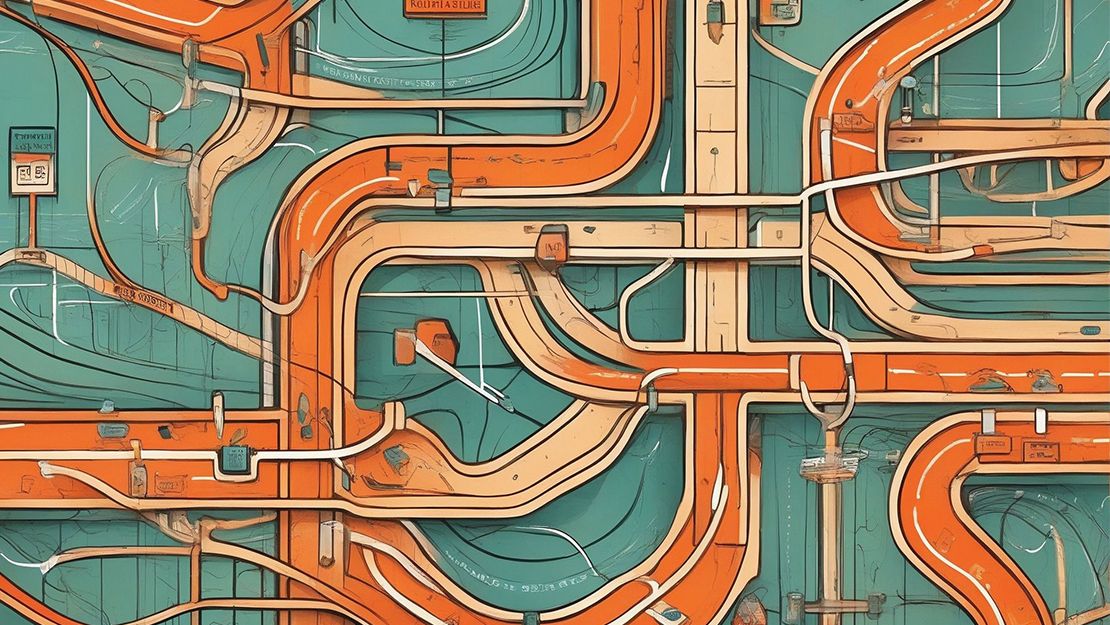 If you're a developer working with Laravel applications, you know how important it is to handle routing efficiently. The good news is that t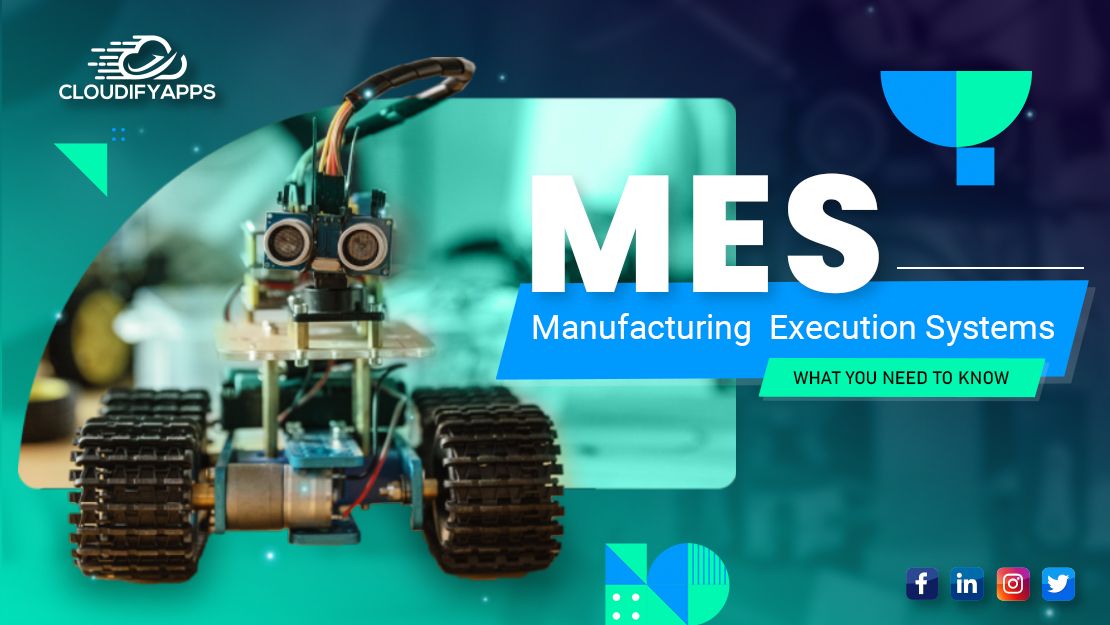 A manufacturing execution system (MES) is a software solution that helps manufacturers track, monitor, and control the manufacturing process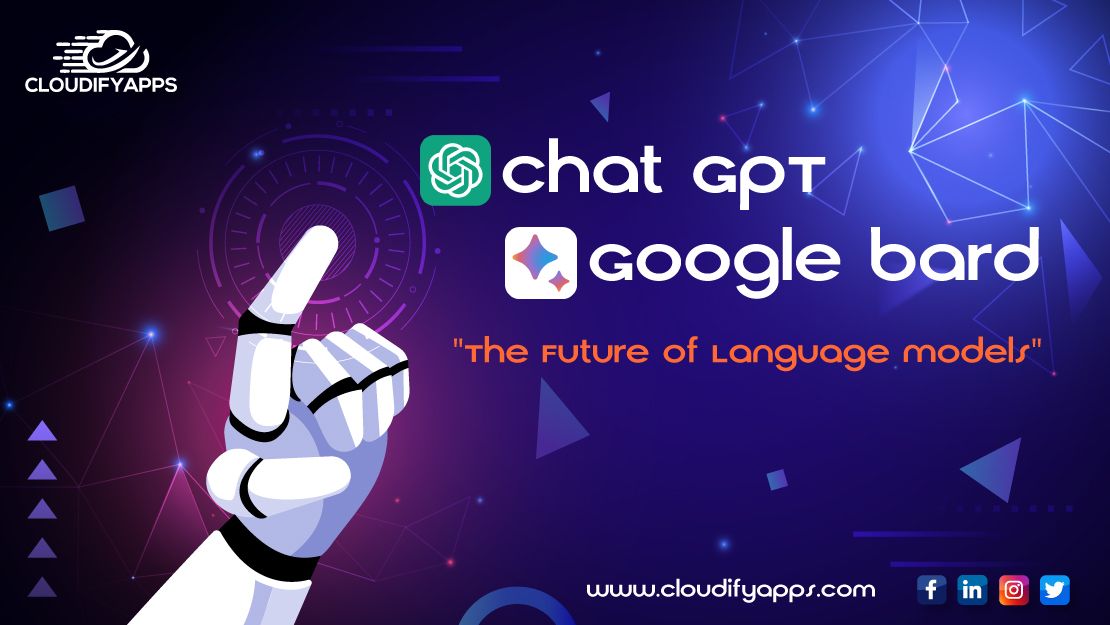 In recent years, there has been a surge of interest in large language models (LLMs). LLMs are a type of artificial intelligence (AI) that ca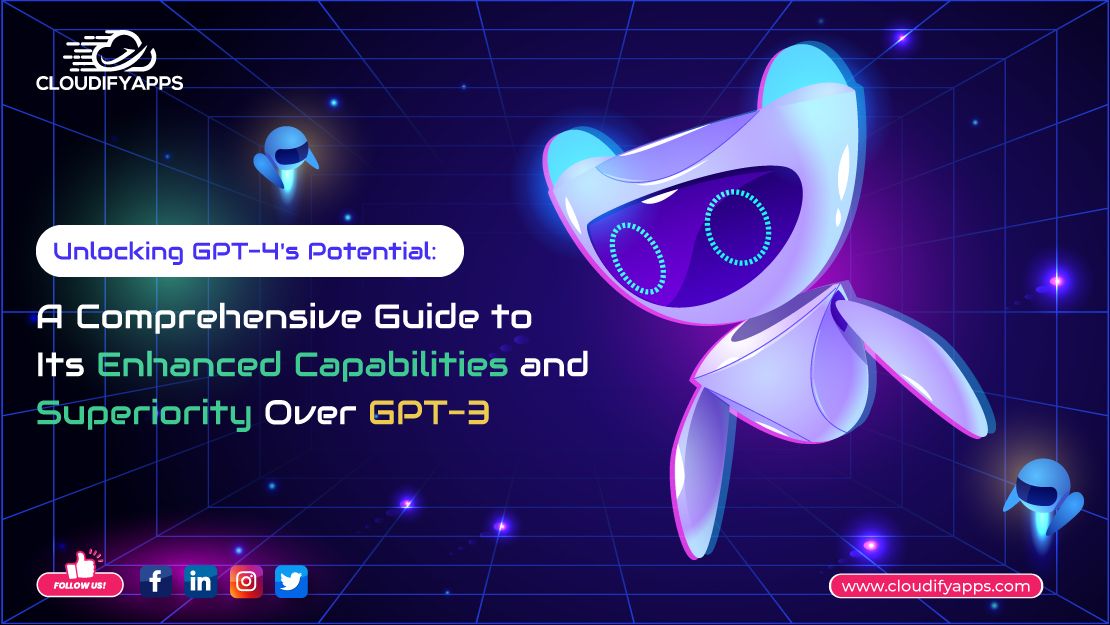 The AI community has witnessed significant advancements in recent years, and the latest offering from OpenAI, GPT-4, has taken the world by