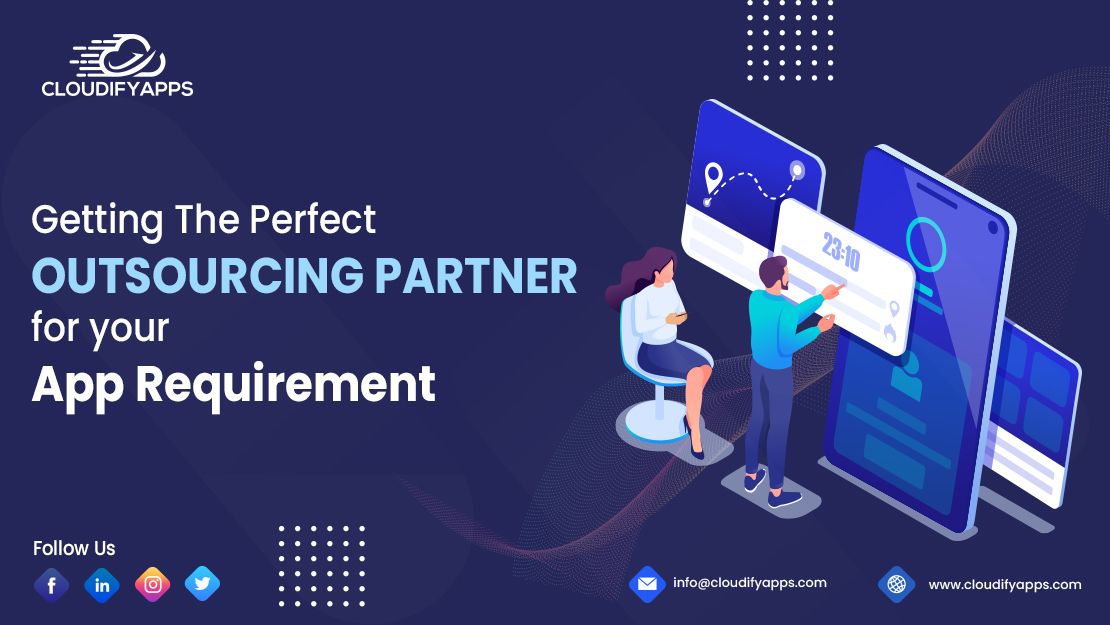 Finding the Right App Outsourcing Partner: Things to Know
Over the past few years, outsourcing has become a major channel for small businesses to get their products or services developed. The reasons for outsourcing range from large cost savings to speed of development to delivery of the right expertise.
It can be challenging to know where to start when looking for an outsourcing partner for your app development. It can be hard to know which one is right for your business with so many options available.
This post explains how to find the right outsourcing app development partner and highlights what you should consider before signing a contract with one.
What Is Mobile App Outsourcing?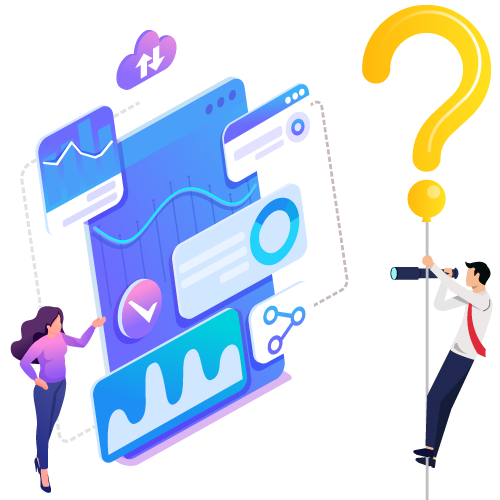 Mobile app outsourcing is a process where a company can hire a third-party company to create a mobile app. This is a great way to save money and time and focus on the company's core business. Outsourcing is a strategy that has been used by many companies. It has assisted them in realizing the cost-cutting benefits that come with outsourcing.
Outsourcing the development of a mobile application can be done by either offshoring the work to a company in another country or by hiring a company in the same country to do the work. Offshoring is best if you have a large project or want to get your app done on the cheap. On the other hand, local companies offer you more flexibility, working faster than their offshore counterparts. Because they are local, they can make changes easily, and you can directly meet with them.
3 Sayings About App Development Partnerships That May Take You To The Wrong Place

1. "I Don't Need Any Help."
The first mistake that a person may make is saying that they don't need any help or additional app development services when it's time for them to start building one. Problems arise with this mindset because people will stop using it if the app doesn't work very well. If the app is abandoned, it's very unlikely that it will ever get updated or fixed.
2. "I'll Hire Trainee Developers, And That's Enough."
Another deadly strategy people use is hiring cheap trainees or student developers to build the app because they know how available their help will be. They think this way is cheaper or even more effective, but it will not work at all. The main reason past professionals and designers had brilliant results with outsourcing apps was that they already knew what needed fixing and added to get good odds of customer satisfaction with their work.
3. "Freelancers are Best. I Don't Want to Build a Partnership With any Company."
People make the third mistake when they decide to build an app with a freelance or a part-time mobile app developer. However, instead of partnering with a professional app development company, people make this choice hoping that it will work out fine by having everything done in their own hands and not paying for any additional services.
But freelancers usually have much more work to do for different clients. They cannot devote as much time and effort to your project as you would wish them to. Apart from that, freelancers are usually not able to cope with the deadlines when it comes to timelines. Often, a freelancer does not have the required skill set for an app, so their work would waste a lot of your money without any visible results.
Things You Should Do Before Starting to Look for a Partner for Your App Development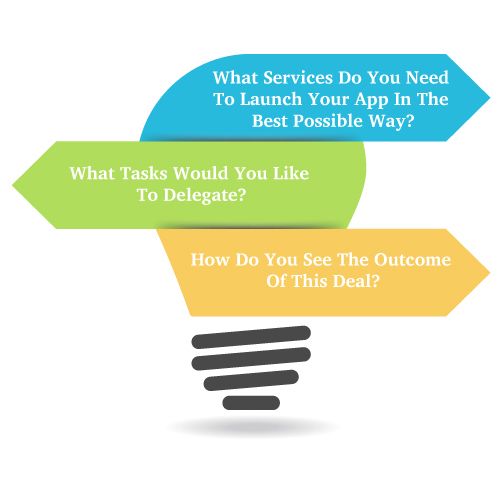 Before you begin your search for a professional mobile app developer, it would be ideal to do some things first to ensure you find the right company for your needs. Ask yourself these questions:
1. What Services Do You Need to Launch Your App in the Best Possible Way?
It would be ideal for outlining the services you need to contact vendors for those services. Contacting multiple vendors will help you compare the costs and quality of services offered by different vendors.
2. What Tasks Would You Like to Delegate?
List all the tasks that would be great to be done by someone else. Make sure to prioritize them so that you only concentrate on the most important tasks that would allow you to launch the app with a minimum of your time and effort.
For instance, you can delegate the designing of your app to an experienced company while you focus on creating the content of the app and making decisions on the development process or creating an advertising and marketing campaign.
3. How Do You See the Outcome Of This Deal?
Discuss with your preferred vendor what you expect from the collaboration. Finally, write down all the points discussed in an agreement to make sure that they don't get lost over the course of the development so that you can easily get back to them if you need to clarify anything in the future.
When you think that you have a draft of all the details that could be discussed, create a timeline of the process and ensure that the vendor agrees with its terms.
What Aspects Of App Development Can You Outsource?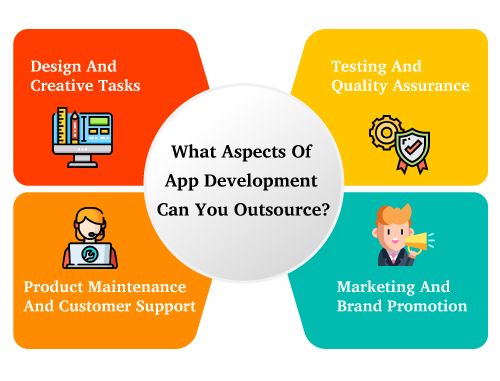 1. Design and Creative Tasks
The design and creative aspects of mobile app development require a lot of expertise, and that is why it is smart to outsource them. Since this process involves a lot of tools and applications, it's best to work with a company that has experience in the process.
2. Testing and Quality Assurance
You can outsource your app's testing, quality, and assurance to make sure it's ready for the market. This is not a simple process since you need professionals with a lot of experience testing applications and people who can make sure it will perform well on different devices and operating systems.
3. Product Maintenance and Customer Support
This part of the process is extremely important since you will probably have to continue working with your clients for a long time after the initial release of the app. You will likely have to provide them with customer support and answer their questions. You can outsource this aspect of the app development process to allow you more time to focus on other things that you need to attend to.
4. Marketing and Brand Promotion
You don't have to be a marketing professional to be able to successfully promote your app. You can outsource the aspect to a professional marketing firm with the required experience for this type of work. Some companies specialize in promoting apps, so choose one of them and let them do their job.
Key Aspects to Pay Attention to When Starting an App Development Partnership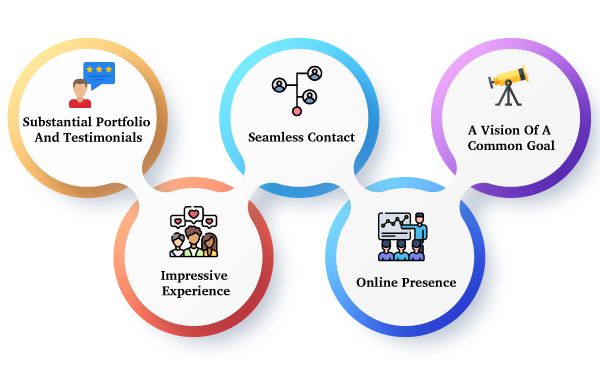 If you are considering developing an app and need to find a partner for your mobile app outsourcing, there are some key factors to consider when deciding who to partner with. They include:
1. Substantial Portfolio and Testimonials
This is the most important factor to consider. You want a partner who has a solid portfolio of developed mobile apps and has many happy customers. Ask for a portfolio of apps for review, and then follow the money: ask for the names of the companies their app development companies have done work for and contact them directly to get their feedback. If a company cannot provide you with references from other companies and can't point you to an extensive portfolio of work, then they might not be the right fit.
2. Impressive Experience
Another major factor to consider when selecting an app development partner is their prior experience in the mobile app development field. It is important to look for a firm that has significant experience in the same industry you are planning to develop your app in. Look at past projects in the portfolio to see how they deal with similar projects to your own.
3. Seamless Contact
This is one of the most crucial factors in a successful development partnership. You want a partner that communicates well with you and responds quickly to any requests or challenges you may encounter. Check their social media channels and try to get their contact through both and contact them to see how responsive they are.
4. Online Presence
It is also important to consider the visibility of an app development partner. Look at websites and social media channels. If they are using social media, check to see how they engage with users and if they have a blog. You don't want to choose someone for reasons that have nothing to do with the quality of their work.
5. A Vision Of a Common Goal
Having a picture of what you want the finished product to look like is important. A process should be defined between you and the app development partner that defines the path to the end goal. It should also be clear which pieces of the app are defined in the project and which are coming later.
Where to Find a Partner for Your App Development Project?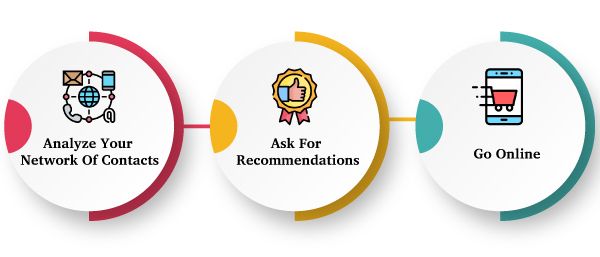 There are many ways to find potential partners for your app development project. They include
1. Analyze Your Network of Contacts
You can check your network to know if you have already prior relationships with businesses or services that might be interested in developing an app for them. Don't just go for a big name and steer clear of organizations that seem too small. Your main focus should be to find a company that can easily transform your idea into an app that brings value to consumers.
2. Ask for Recommendations
Ask your friends, family and colleagues if they know anyone who can help you build an app. Most businesses have relationships with other companies that offer the same services. Those relationships can help you find the right company to create an app if you ask for guidance.
3. Go Online
You can try searching for a suitable app development company on the Internet. Most businesses offer app solutions, so you might find an appropriate partner right away. Businesses that offer free quotes and free assessment of your ideas can be a good choice.
Conclusion
Finding the right mobile app development company can be daunting, but it's important to take the time to do your research. We've highlighted some key points that you should consider when looking for a mobile app outsourcing partner.
By following these tips, you'll be able to find a partner that is a good fit for your specific needs.
---
Popular Tags
Recent Posts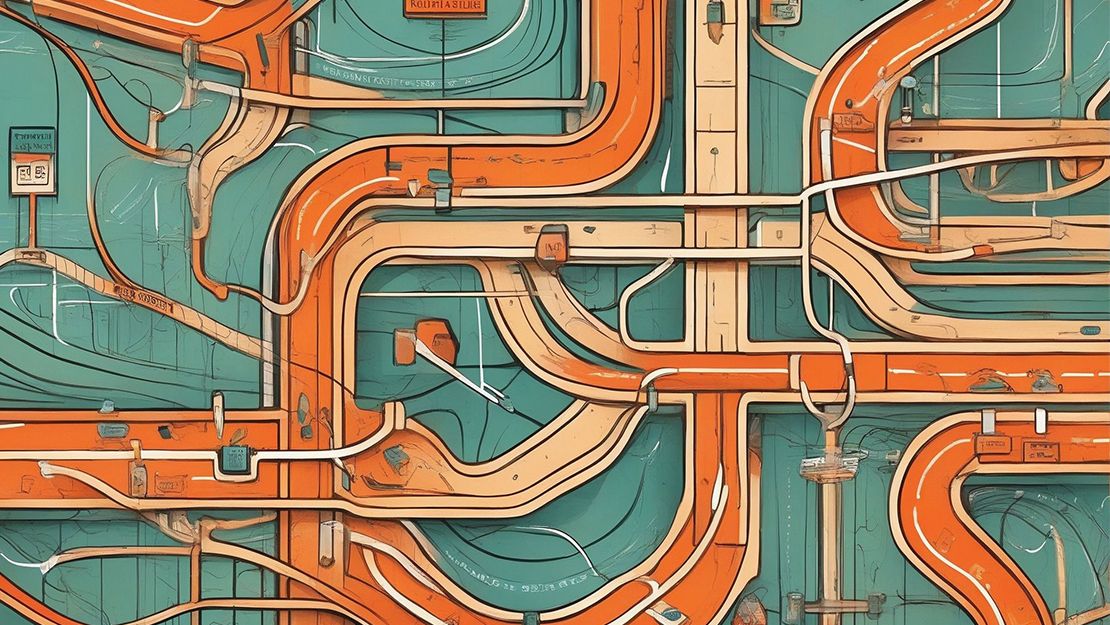 If you're a developer working with Laravel applications, you know how important it is to handle routing efficiently. The good news is that t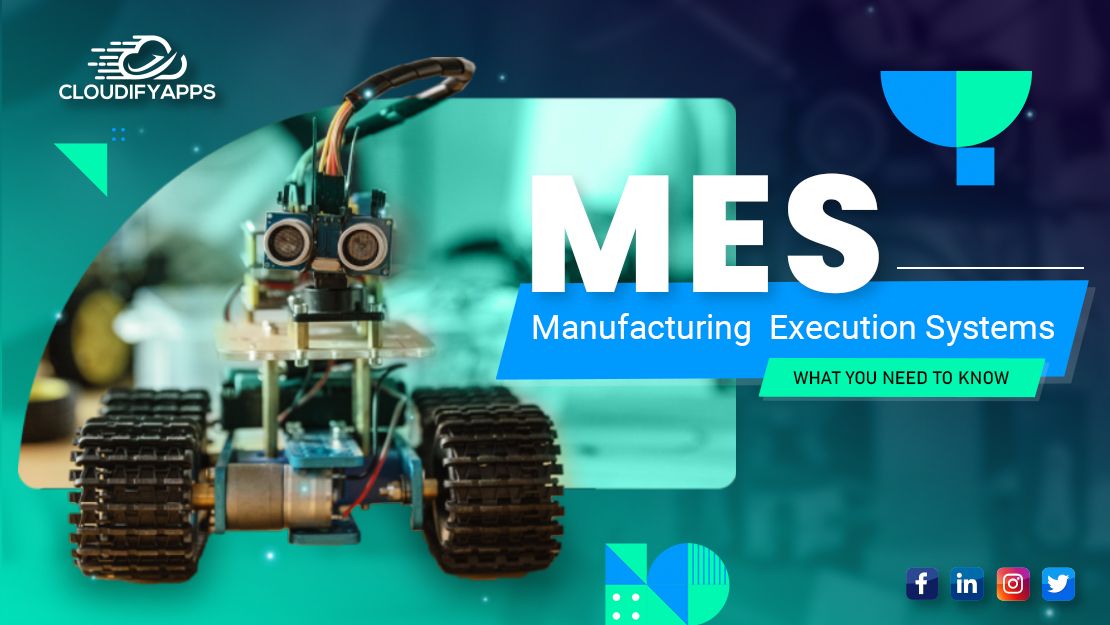 A manufacturing execution system (MES) is a software solution that helps manufacturers track, monitor, and control the manufacturing process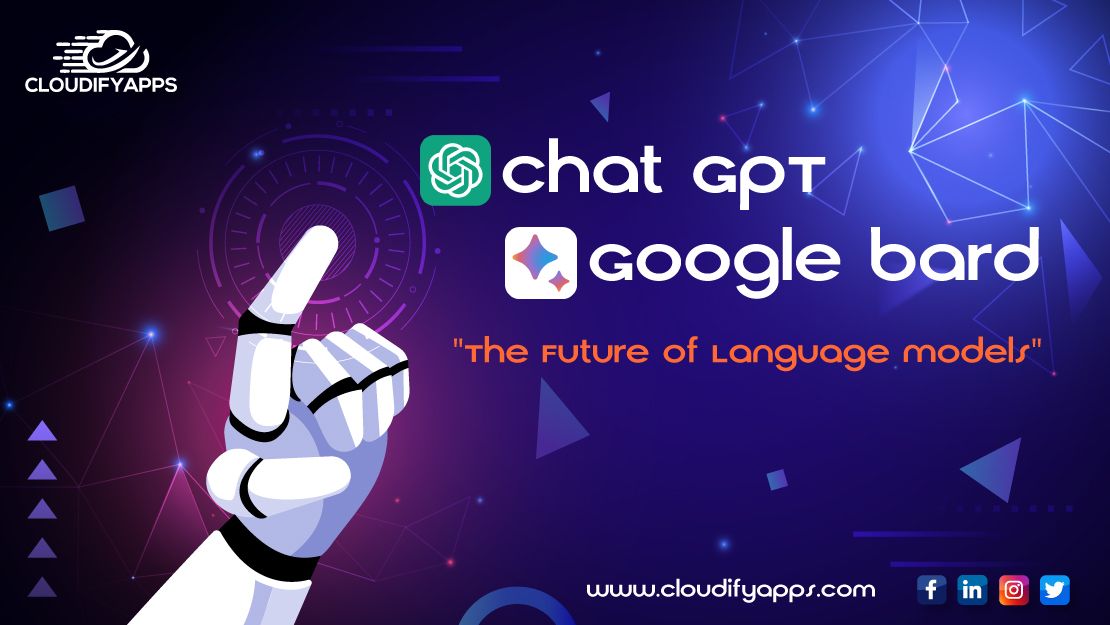 In recent years, there has been a surge of interest in large language models (LLMs). LLMs are a type of artificial intelligence (AI) that ca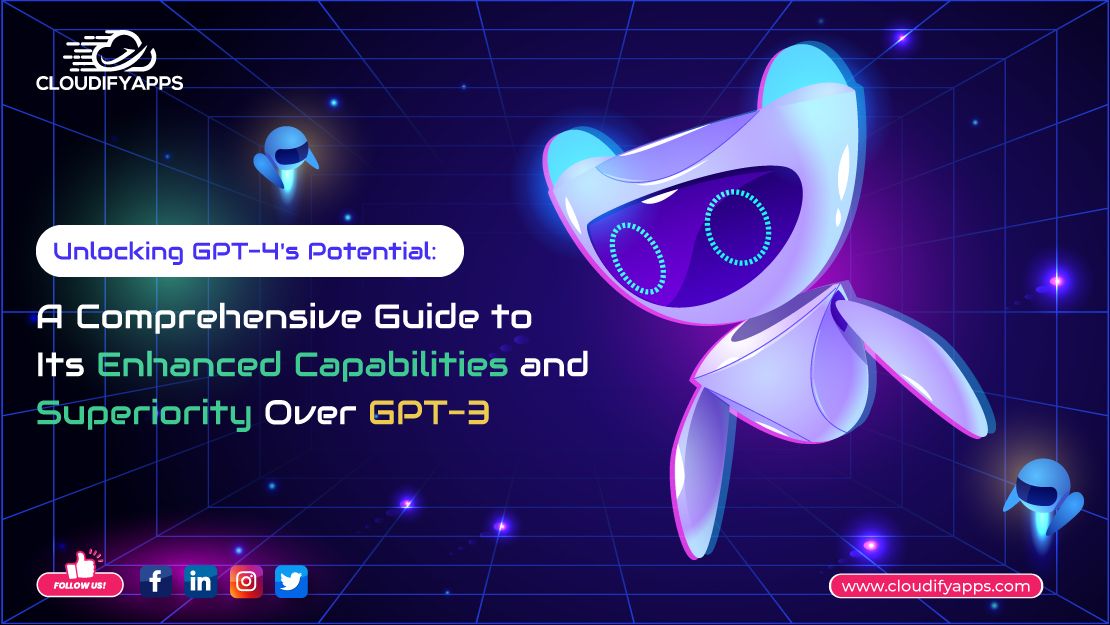 The AI community has witnessed significant advancements in recent years, and the latest offering from OpenAI, GPT-4, has taken the world by