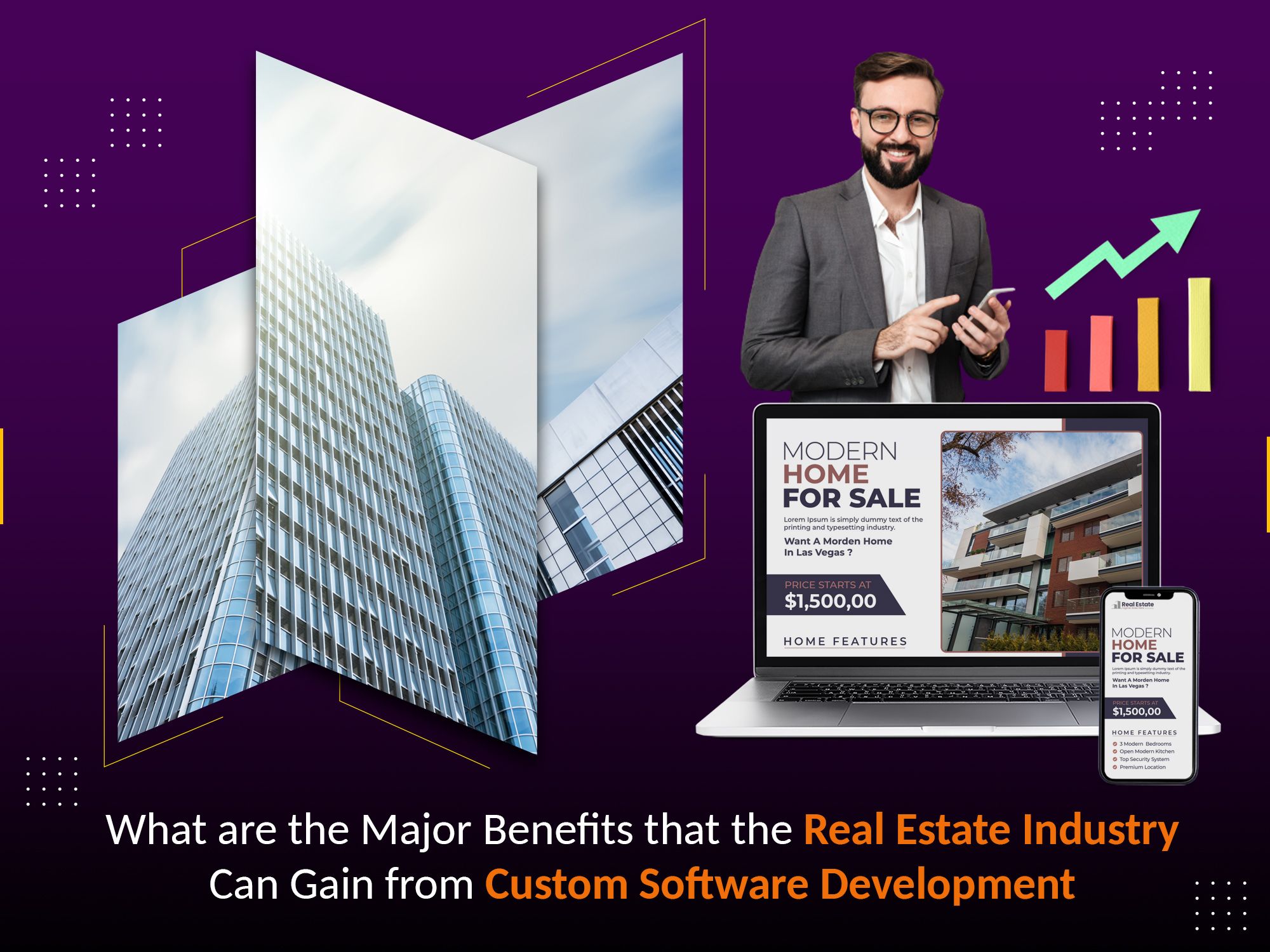 What are the Major Benefits that the Real Estate Industry Can Gain from Custom Software Development?
Introduction
Consumers are necessary to a business's success. The real estate businesses are being encouraged by market analysts to embrace custom software development to service delivery rather than sticking to outdated practices. In truth, your customers are your company's single most valuable asset. To get your business online quickly, constructing a robust and secured real estate property management system is a fantastic option.

A real estate company's most significant issue is managing leads at multiple stages at the same time. It might be tough to manage property tours, phone calls, and discussions with several clients on the same day. Using a custom solution that allows you to map out the details of the complete sales process can simplify and organize your work.

Real estate agents can verify the status of each lead with a single glance owing to capabilities in custom CRM applications. It's never as simple as persuading a buyer to agree to commit to a purchase. Hundreds of little chores must be accomplished for things to function effectively, in addition to the surface aspects of each sale. Forms must be completed, reports must be submitted, and legal issues must be resolved—these ancillary tasks are a time-consuming but necessary part of the sales process.

Because of the magic of automation, the custom software is designed to alleviate the load of many of these activities off your employees' shoulders. As a result, your salespeople will be able to concentrate more of their efforts on closing leads and resolving client issues while the automated custom software handles the specifics.

What Is Custom Software Development?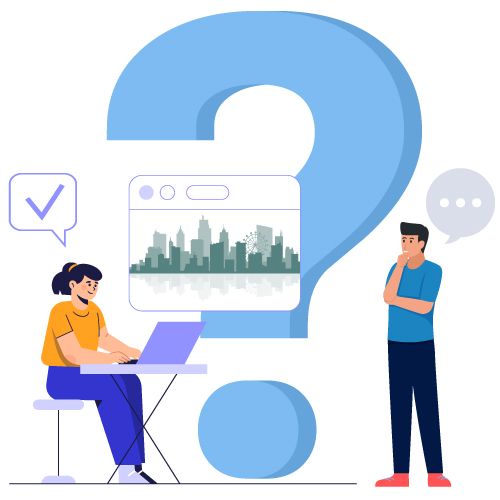 Custom software development is the process of creating unique technological solutions used for designing, developing, deploying, and supporting software for a specific group of users. In this process, a real estate software development company creates software applications for a single user or set of users inside an organizational unit that performs specific functions and does what you need.

There are also no extraneous features supplied, so, in the words of one insurer, "you simply invest for what you want and need." Custom software is often developed by a third-party or in-house team of developers.

3 Advantages Of Custom Software Development In The Real Estate Industry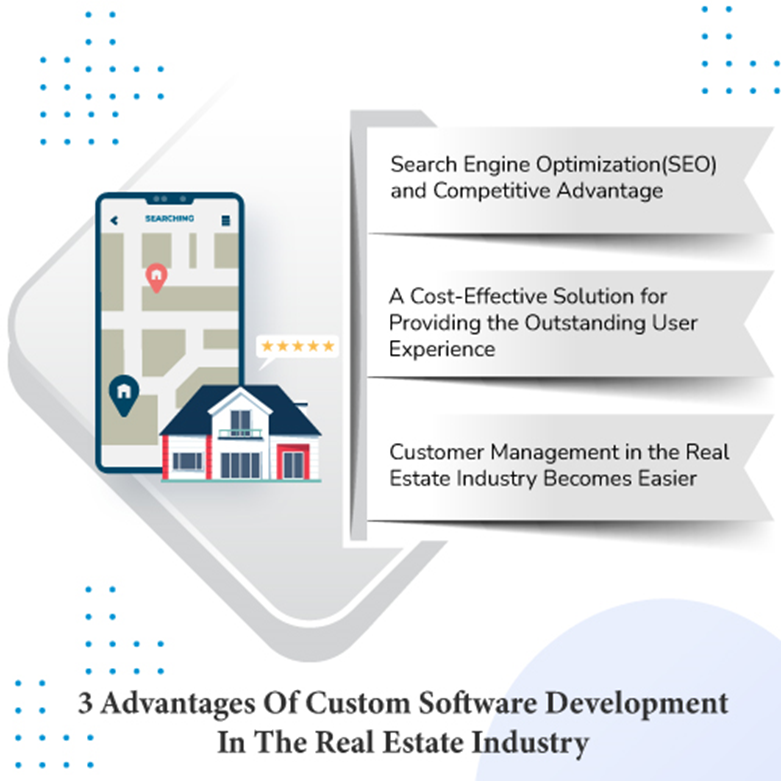 Search Engine Optimization (SEO) and Competitive Advantage
Real estate is a fiercely competitive industry. Everyone strives to reach the top. You will require the assistance of custom software development to survive in the business and beat the rest of the companies. The best aspect of custom software development is that you can acquire a competitive advantage by providing products ahead of the rest of the market.

Custom software is one-of-a-kind. It has its own set of advantages and traits. Every feature, function, and interface of bespoke software is created from the ground up to match your particular company's needs. It is typically intended to aid in the expansion of your firm.

Since it is customized software, it will provide you with an SEO advantage. It is critical to keep updated with SEO guidelines in order to attain and maintain the most significant possible positioning. As a result of the SEO benefit, several procedures may be simplified and optimized.

Based on client feedback, you may improve and tailor your software with the likely keywords and alter them as needed. Following a technical assessment and the setting of your Google Analytics and Google Search Console accounts, the custom software uses AI-based technologies and machine learning algorithms to monitor and optimize the entire content. It then begins pushing keyword ranks, generating organic traffic and conversions to your website. Some software also divides those terms by the SERP (search engine results pages) and web pages on which they appear.

You can personalize your real estate software depending on your company's location and the keywords linked with it. If you know who your potential clients are, you may make changes accordingly. Suppose you have plots and buildings available at Pune for the deal; you can know what your keywords need to be and optimize the content accordingly.

For custom software, you do not need to rely on other plugins, frameworks, upgrades, and so on. You can simply adapt to the changing requirements, and your work will not suffer as a result. Custom software development improves your workplace productivity and provides a better customer experience.

A Cost-Effective Solution for Providing the Outstanding User Experience

You may believe that readymade software is less expensive and hence a more cost-effective choice for your firm. However, if you are considering it, keep in mind the additional expenses that come with it, such as monthly or yearly fees for software licensing, seat licenses, and so on.

When you analyze all of this, you will see that readymade software is actually not very cost-effective in the long term. You will need to make investments in them from time to time. You may try to save costs by obtaining fewer user licenses, but it could backfire and end up charging you more money.

Custom software, on the other hand, is significantly more economically efficient. When you own the software, in this case, you don't have to pay recurring fees or purchase extra seat licenses as your business grows. Investment in custom software development has many more long-term benefits than buying readymade products.

Not only is custom software a cost-effective solution, but also it will help you to provide an outstanding user experience in your industry. A user-centric strategy is critical for corporate success. Everyone nowadays demands transparency from those who provide services to them, and they expect those who do so to prioritize the clients' needs.

If the software does not satisfy their needs, you may lose a potential client. So there is a need to make your software attractive and informative to provide an exceptional user experience that will turn your software into a lead generation magnet.

For providing the best user experience, you have to consider three key factors -

How the customer intends to accomplish their objective
Where the client will get relevant information
What's most important to the client

Attending clients is critical for every organization. To pursue effective communication with your clientele, you may add SMS, chatbots, or automated emails into your bespoke software. Interacting with your consumers 24 hours a day, seven days a week will drive repeat business and assist in establishing strong relationships with customers. In this manner, you can always provide relevant information to your consumers. You will save customers time and improve their experience with your company. This will once again assist you in saving money that would otherwise have been spent on employees in the customer support department.

Through real estate software India, you can also understand where your clients are primarily from and what they want. Custom software can help you to provide recommendations to your frequent software users. It begins by collecting user data such as ratings, comments, search logs, clicks, page views, and other events. The obtained data is then saved so that it can determine what sort of recommendations need to be sent to the user.

Customer Management in the Real Estate Industry Becomes Easier

Having more information about your client will always help you create a more positive experience for them. Every action they do, as well as every interaction they have with your company, must be tracked, documented, and recorded.

To do so, you'll need to move beyond sticky notes and disorganized filing cabinets and start relying on innovative organizational technologies that can correctly measure and categorize data for future reference while also making that data available across departments. All of this is possible due to CRM, which allows you to keep an extensive list of customers and any pertinent information about them.

Access to their documents has never been easier than it is now, thanks to the cloud, so whoever is assisting the client in question will have access to the same actionable data immediately. Clients and staff will save time as a result of this.

Maintaining a proper workflow and utilizing a sophisticated data management system will help you improve client-firm communication. After all, even if your consumers have a single point of contact, there's a considerable chance that contact will become unavailable at some time, forcing the client to work with someone else. When this happens, many customers are faced with the unpleasant possibility of having to start over with someone who does not understand their specific needs and difficulties.

CRM eliminates this concern by making detailed customer information available to anyone who may require it. As a result, it won't matter who is now assisting the client because everyone will be working with the same data. The communication benefits of mobile CRM are not confined to the office, as CRM is cloud-based and available from any device with an internet connection.

When it comes to nurturing lead acquisition and conversion procedures, we strongly feel that a tailored customer relationship management solution is the best option. Customers in the real estate industry have more specialized and unique needs that off-the-shelf CRM solutions cannot fully provide. Custom development will assist your personnel in facilitating conversation with potential clients and identifying trends in client requirements, allowing you to classify your customers into distinct segments that correspond to your specific sales process.

Your time is essential, but so is the time of your consumers. And, if your clients have a problem that needs to be resolved, they will be dissatisfied unless the issue can be resolved fast. When a consumer contacts your organization, CRM allows your staff to obtain all available information about previous transactions, preferences, and anything else to help them find a solution.

In many circumstances, with an available database of prospective issues, your more experienced staff, armed with historical facts and history, will be able to identify a solution within the first few minutes. If a solution isn't apparent, bringing in additional agents or even crowdsourcing answers through customer portals is a straightforward matter. Customer service becomes a stroll in the park with CRM.

Implementing custom real estate software will help you prioritize leads by allowing you to categorize and track them utilizing a CRM system. Pursuing leads with a high conversion rate is an excellent way to achieve results and a high conversion rate.

If you don't have a custom real estate management system, you'll waste time and money chasing down ineffective leads. You'll be able to organize your leads based on their engagement levels if you use good real estate account management software. As a result, multiple action plans can be created for different types of leads. Additionally, your teams will be able to direct their efforts in the proper direction and track the complete lead database.

Conclusion
As previously said, customized solutions may have a significant impact on the operation of your company. The custom software can be dynamically scaled up to meet the company's needs as it grows. However, a readymade product cannot be modified to meet your new requirements. Moreover, it is tailored and can be optimized for your SEO advantage.

Keeping all the points mentioned in the article in mind, you will undoubtedly provide a fantastic user experience and considerably boost the possibilities of turning users into purchasers. The success of your business is assured. Choose the right real estate software development company. Look for experienced developers who have previously worked with real estate accounts management software. Typically, real estate software development firm professionals will listen to your ideas, do a competitive analysis, and share that information, conduct risk measures, and then advise on the best method to deploy your product with you.
---
Popular Tags
Recent Posts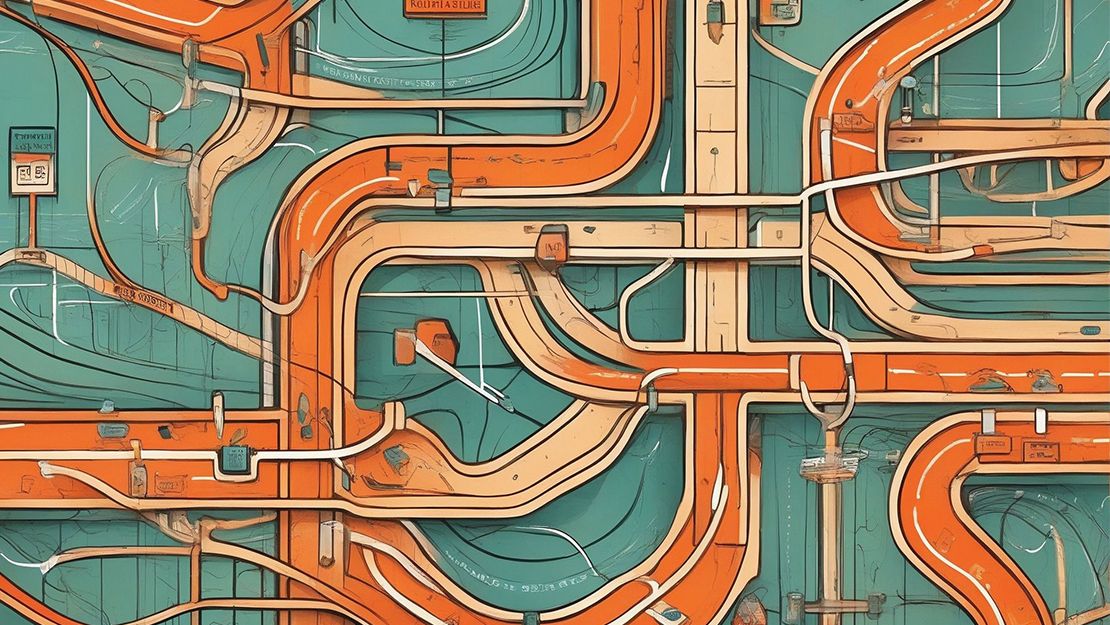 If you're a developer working with Laravel applications, you know how important it is to handle routing efficiently. The good news is that t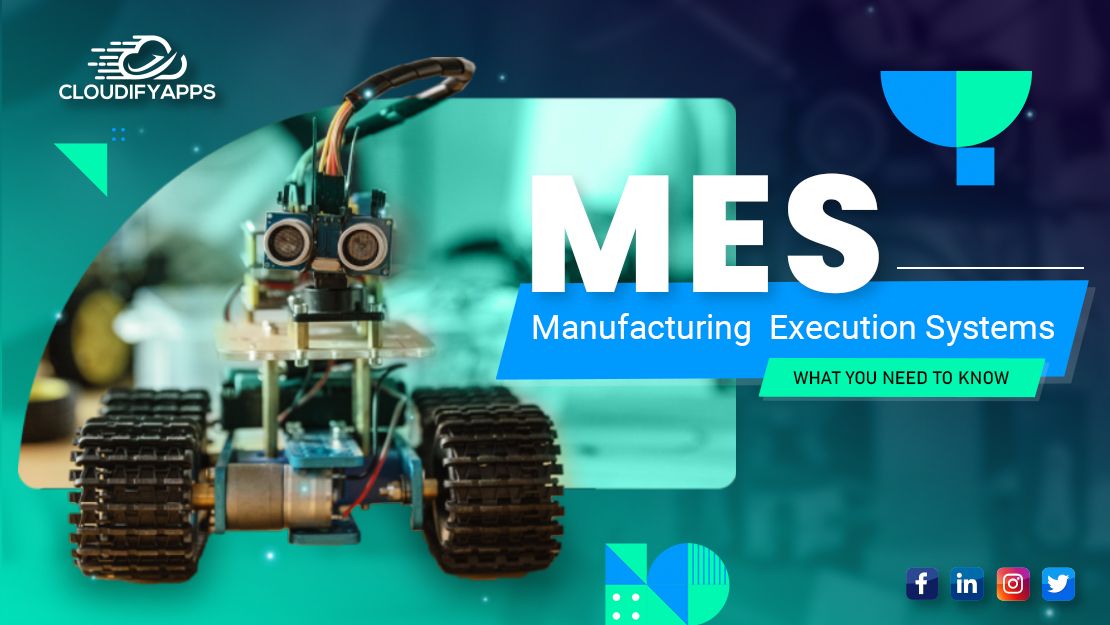 A manufacturing execution system (MES) is a software solution that helps manufacturers track, monitor, and control the manufacturing process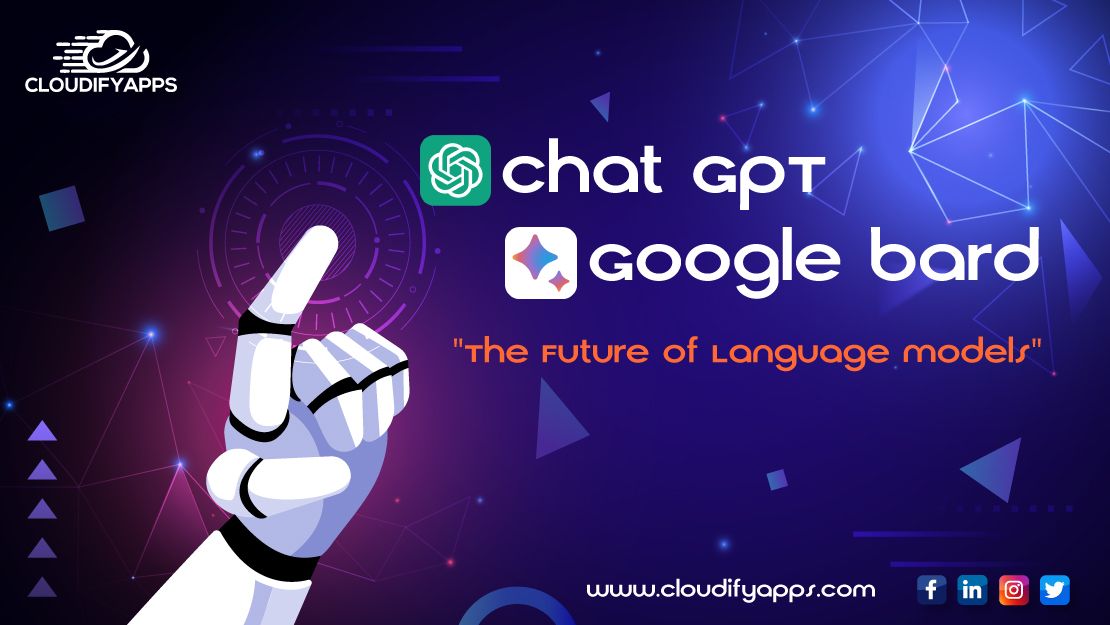 In recent years, there has been a surge of interest in large language models (LLMs). LLMs are a type of artificial intelligence (AI) that ca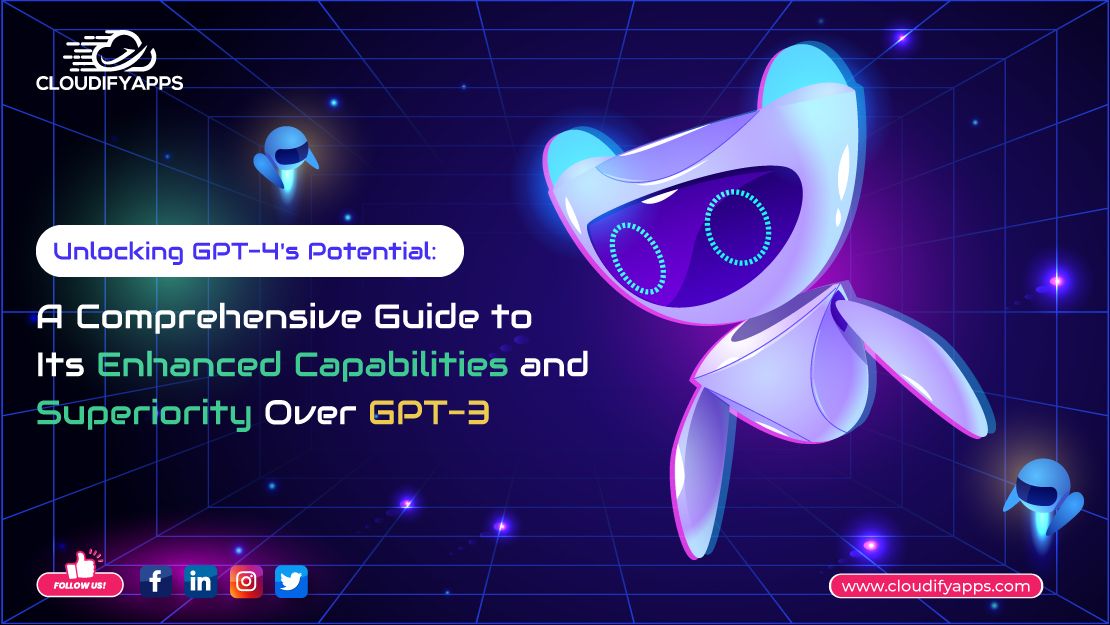 The AI community has witnessed significant advancements in recent years, and the latest offering from OpenAI, GPT-4, has taken the world by